Notes, thoughts and observations - Compiled weekly
Labor market continues to be tight, in places. Recent wage reports paint a picture of an oversupply of people with college degrees and undersupply of people without.
Inflation remains sticky with everything from drought driving water transport prices to gas prices at $4. It's also obvious, to everyone except the conference board, that we are IN a recession.
The federal deficit balloons and the solar industry feels the slump of not being proped up by government spending.
Tech IPOs returned with Arm, Instacart and Klaviyo; while the cable industry reaches new lows as CNN has worst ratings weekend on record.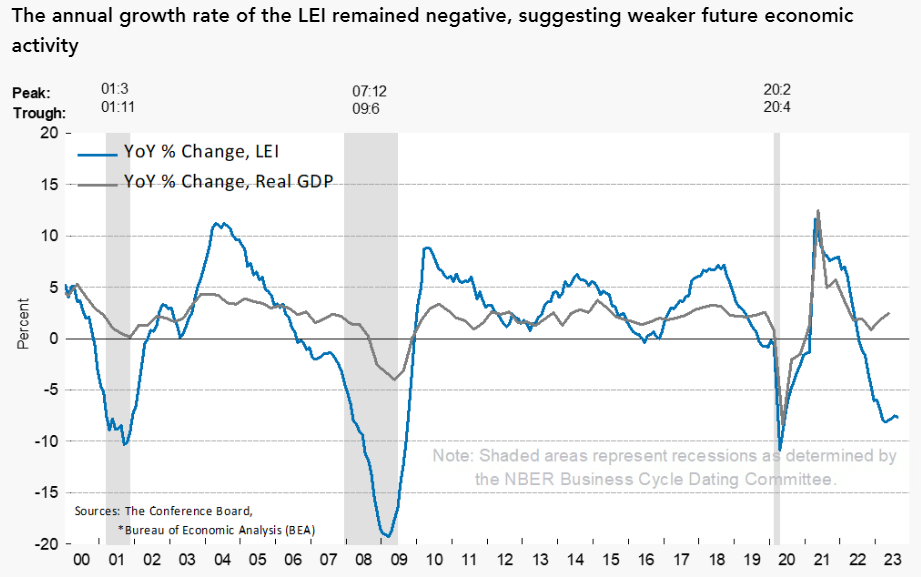 TOPICS
Recession
OPINION - We are IN the recession, future revision will prove
(Sandbox Daily)

Leading economic indicators continue to show weakness ahead

Indicators sank -0.4% in August, and the decline marked the 17th contraction in a row.
Declines of this magnitude have always been associated with recession.
Fed Rate
OBSERVATION - The long awaited pause, what does it mean?
(The Dispatch)

Central bankers at the Federal Reserve held interest rates steady following their meeting this week, maintaining a 5.25 percent and 5.5 percent rate as they did in June.
The Fed's quarterly projection for 2024 has rates remaining tight and inflation returning to its 2 percent target in 2026.
Inflation
OPINION - Increased transport costs will drive inflation
(chigrl)

Drought restricts farmers from transporting crops on Mississippi River
As Midwest farmers prepare to harvest crops and send tons of grain downriver to the Gulf of Mexico, a prolonged drought has reduced the Mississippi River level forcing barge companies to reduce their loads.
The transport restrictions have caused issues for barge companies, while thousands of farmers who have watched drought scorch their fields for much of the summer now face higher prices to transport what remains of their crops.
Some 60 percent of U.S. grain exports are taken by barge down the Mississippi to New Orleans, where the corn, soybeans, and wheat crops are stored and eventually transferred to other ships.
Labor Market
OBSERVATION - Astute point
(dailydirtnap)

You can get paid $160,000 to be a UPS driver or $150,000 to work on an assembly line. Analyst pay (from the most prestigious schools) is $100,000. A sign that we have an oversupply of people with college degrees and undersupply of people without.
OBSERVATION - Free market
(truckerbuck83)

There are no labor shortages in free markets, and every time someone is telling you that whether it's a trucking association, the tech companies, and even college research programs. Everything they have and will advocate for is to increase labor supply and not increase wages.
I will also say that it does cut both ways. Whether it be the 1500 hour requirement or that to become licensed in the trades you must complete a union approved program all in the name of safety. These function as bottlenecks that also cause problematic distortions in the market.
National Debt
OPINION - Long term (5-10 year) risk
(The Dispatch)

The federal deficit is ballooning
"It's not totally unprecedented to see the federal budget deficit double from one year to the next, as it seems to have done this year, "But those occasions, at least in the past 50 years, have always corresponded with bad stuff happening to the national economy." Eric Boehm writes in a piece for Reason.
America does not seem to be in a crisis at the moment, but the government's balance sheet certainly is.
The big difference, then, between this year and 2002 (or 1977 or any of the few other times in recent history when the deficit has doubled) is that the drivers of this year's shocking deficit growth are not temporary problems.

They are structural problems—either as so-called 'mandatory spending' or as a function of the borrowing the government has already done—that will continue to mount until they are meaningfully addressed."
Energy
OBSERVATION - Could drive prices (inflation) higher
(Sandbox Daily)

Gas prices climb to $4/gallon
In fact, since bottoming at $3.203 for the week beginning December 26th, 2022, gas prices are now ~25% higher.
OPINION - Can't know the true cost while government subsidizes
(BrianGitt)

Demand for solar panels has surged, driven by gov't mandates & subsidies. But solar manufacturers have seen their stock prices crater. The 5 biggest Chinese manufacturers, which dominate the industry, have lost a combined $48 billion in market cap since the start of the year.
Stock Market
OBSERVATION - Tech turning around
(The Pulse)

The tech IPO winter has ended!

Three weeks ago, I wrote that tech IPOs are back, and that Arm, Instacart and Klaviyo were about to go public. All the three companies have done so, and their IPOs went well enough.

Arm is a British semiconductor designer, with 99% of today's smartphones running its chips.
Instacart also went public this week, on Tuesday (19 September,) at a $10B valuation.
Klaviyo is the lesser known of the three companies which IPOed.
Digital Media
OPINION - Cable news is dying
(New York Post)

CNN posts lowest weekend ratings in key demo in its recorded history

logged its worst weekend ratings on record in the all important 25- to 54-year-old demo
totaled just 55,000 viewers for its weekend slate of shows