Notes, thoughts and observations - Compiled weekly
TOPICS
---
Energy
End of Oil? Not quite yet. Shortages ahead as demand rebounds
(Peter Zeihan)

Russia announced a plan to cut 500,000 b/d (barrels per day) of oil production. This accounts for about .5% of global supply and roughly 10% of Russian oil exports.
Concern is that most oil production is from the permafrost

Shutting down the wells causes well heads to gel
Took 30 years to restore production last time
Oil services firms have exitied the country
Would be gone for a very-very long time

Not priced into the market

European oil and oil products ban is in effect

Having a hard time getting existing crude out
$40-$60 / barrel (price they can get is below, so can't sell)

(Seeking Alpha)

WTI crude futures CL1:COM advanced 2.5% overnight to regain the $80/bbl level after Russia said it will cut oil output by 500,000 barrels a day next month.

the output decrease, which is around 5% of its production, was in response to sanctions such as price caps on crude and oil products

It'll also deepen the 2M bpd curbs announced late last year by OPEC+,
Debt
OPINION - This chart should scare everyone.. assuming we stabilize our deficit spending
(LynAlden)

Unlike the 1940s, the U.S. government today is set to run $1+ trillion fiscal deficits for the foreseeable future due to top-heavy entitlement programs and persistently large military spending.
Moreover, the highly-financialized economy relies on ever-higher asset prices in order to fuel ever-higher tax revenue, and so even attempts at fiscal austerity would have a tough time reining in deficits at this point.
Resources
OPINION - Drought will have dire consequences in the west
(CNN)

Scientists fear a Great Toxic Dustbowl could soon emerge from the Great Salt Lake
When lake levels hit historic lows in recent months, 800 square miles of lakebed were exposed – soil that holds centuries of natural and manmade toxins like mercury, arsenic and selenium.
Environment
TAKEAWAY - ESG only makes sense if you look beyond the obvious issues
TAKEAWAY - EV owners don't want to confront this reality
(siddharthkara) - When car companies advertise their shiny new EVs during the #superbowl today, none of them will mention the destroyed environment and people of the DR Congo at the bottom of their cobalt supply chains. #cobaltred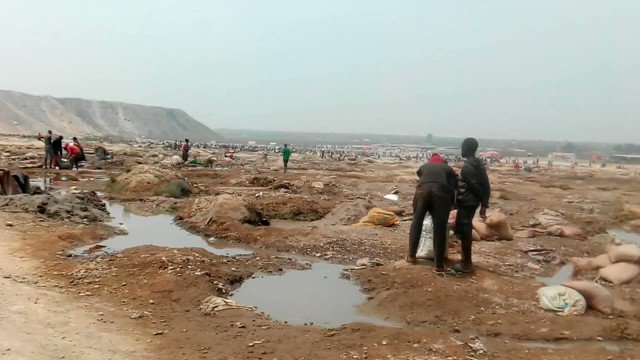 Investors are waking up to the human-rights abuses & environmental damage caused by renewable energy & electric vehicle supply chains.
Commodities Risk Lurking in ESG Funds Is Now Too Big to Ignore

The renewables revolution relies on mining for raw materials to power the technology, but supply chains are revealing severe human-rights abuses and environmental damage

Humans mined 700 million tons of copper over the last 5,000 years. The same 700 million tons will need to be mined over the next 27 years to meet 2050 energy transition targets using wind, solar, & electric vehicles.
JohnLeePettim13 - $6.7 trillion invested in #GreenEnergy since 2004. To continue this green dream the world will need 10 million tons of new copper supply over the next decade, or the equivalent of a new Escondida copper mine, the biggest in the world, into production every year.