Notes, thoughts and observations - Compiled weekly
TOPICS
---
Labor Market
Maintain austerity in good times to avoid layoffs in bad times. - Carlos Slim
HOTTAKE - Trickle down layoffs. Easy to ignore the support businesses that take a dive when local employers lay off thousands.
(DiMartinoBooth)

Mass layoffs like Microsoft cutting 11,000 as announced today miss incorporating ripple effects. Ex Applied4Tech closes plant. Ripple effect: 800 job cuts at logistics firm that relied on that plant. Something to figure into your calculus.
OBSERVATION - All eyes on Uber, speculation that it requires a RIF to shift into value buy territory
(Jason)

Report: Microsoft to layoff 11,000 this week This leaves only google, Uber, and apple as the only major tech firms to not do a layoff recently 🤔

(tomwarren) Microsoft is preparing to make job cuts tomorrow, I've learned. Additional reports suggest the software giant could layoff more than 10,000 employees.
OPINION - These workers are gone folks, and they ain't coming back (h/t to Springsteen)
(TKer)

Many are out sick. From KPMG's Diane Swonk: "Nearly 70% more workers out sick each month than pre-pandemic average.

The scars of the pandemic are adding to staffing shortages. The number of those out sick and unable to work hit 1.6 million in November; that left nearly 700,000 more people on the sidelines than in any month of the 2010s.
Many older workers had COVID and are unable to work due to long COVID. Younger retirees are now needed to care for grandchildren and elderly parents, due to acute shortage of child and long-term care workers.
Those out from work due to childcare problems reached an all-time high in October as more children were sick with RSV, Flu, and COVID-19.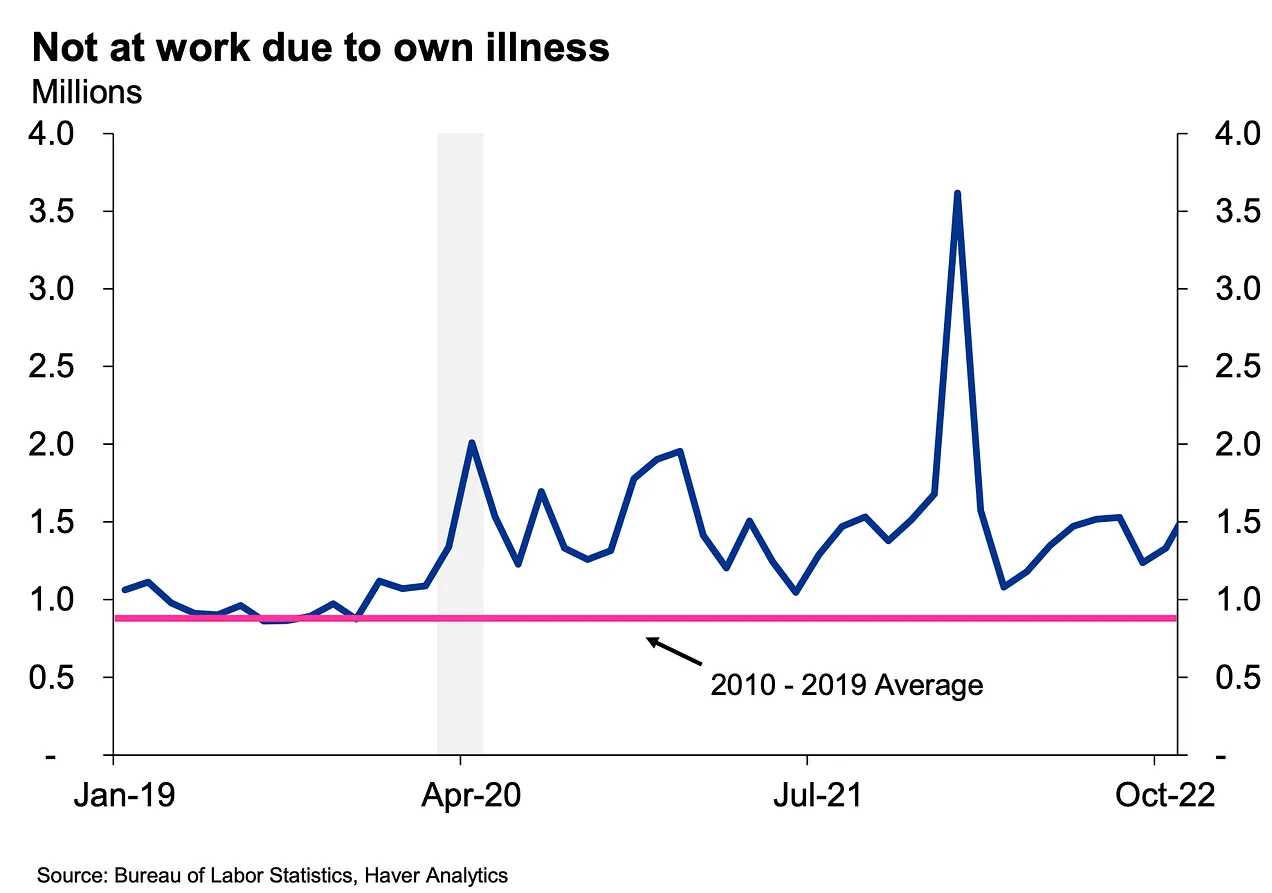 ---
Energy
The Stone Age came to an end, not because we had a lack of stones, and the oil age will come to an end not because we have a lack of oil. - Sheikh Ahmed Zaki Yamani
OPINION - Time to get back into the petroleum value chain
(John Ellis)

Global oil demand is set to rise to an all-time high in 2023 as China relaxes its Covid-19 restrictions in a move that may push crude prices higher in the second half of the year, according to the International Energy Agency.

Demand for crude oil could rise 1.9 million barrels a day to reach an all-time high of 101.7 million b/d, the IEA said in its first monthly oil report of 2023.

Oil markets have been relatively calm of late compared with the wild ride through much of 2022.

Prices have been volatile but have mostly stayed at about $80 a barrel oil for the past couple months — high by historic standards
A run past $100 a barrel is likely in the coming months, they say, which would threaten a weak global economy anew and put energy prices back at the top of the agenda of many governments.
OPINION - To say California is boned, from an energy prospective, is an understatement. Also notice how NGL pipelines don't extend into the upper mid-atlantic states.
(BrianGitt)

California is the 3rd largest gasoline consuming market on the planet, behind China & the US as a whole.
It imports 70% of its oil from foreign countries with weaker environmental & labor requirements.
There are no crude oil pipelines connecting CA to the other lower-48 states.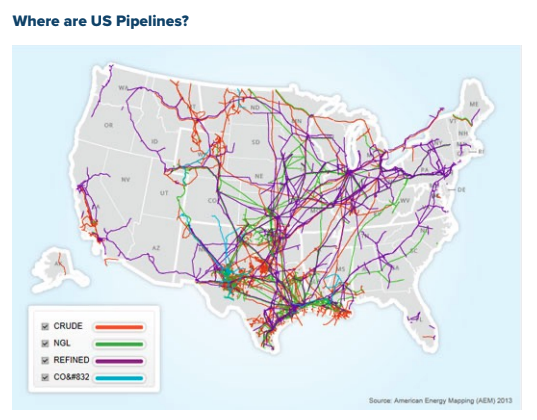 HOTTAKE - I am shocked that oil demand is rising (part 2); almost like renewables alone can't meet our energy requirements
(chigrl)

$XOM > Exxon prepares to start up $2 bln Texas oil refinery expansion

..in coming days will sharply boost gasoline and diesel production at its Beaumont, Texas, refinery, people familiar with the matter said, completing a $2 billion expansion first considered nine years ago.
HOTTAKE - I am shocked that oil demand is rising (part 1); almost like renewables alone can't meet our energy requirements
(chigrl)

Oil Demand in China Seen at Record in 2023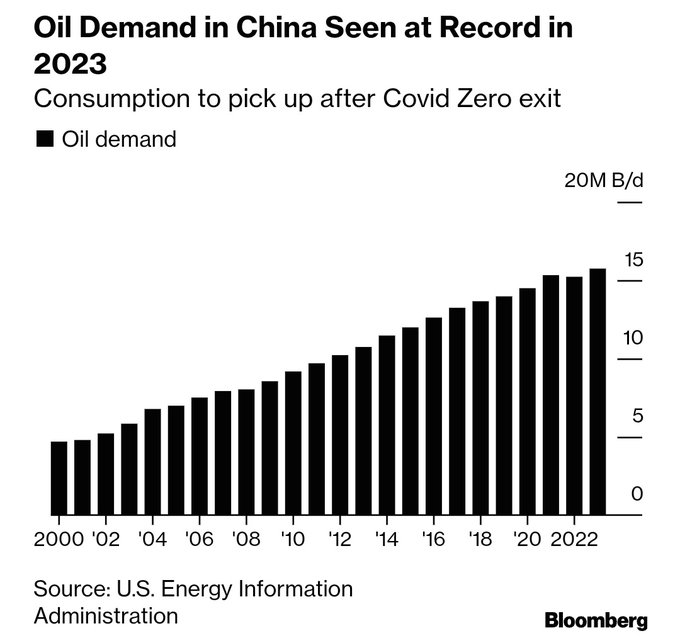 OBSERVATION - Power transmission is KEY to any sort of electric vehicle future, doesn't matter if the power originates with solar, wind, nuclear or even fossil fuels.
(BrianGitt)

The US electric grid needs to expand by 3X to hit renewable energy goals because wind & solar farms are located far from homes & businesses.
@IEA says it takes more than 10 years to build new transmission lines.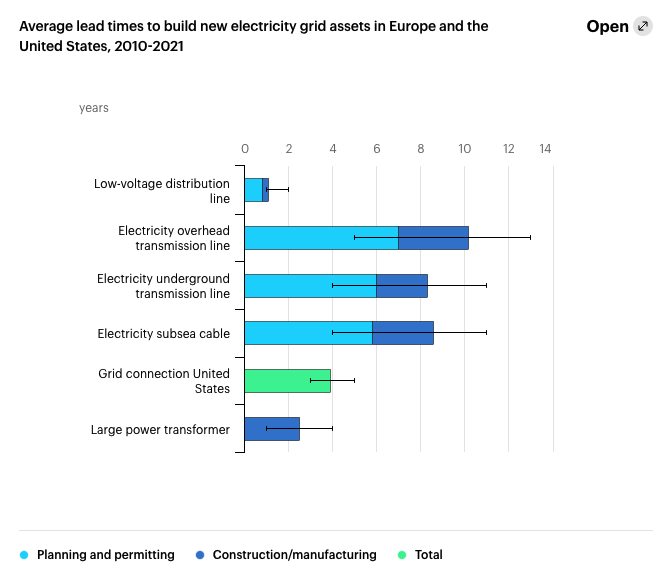 TAKEAWAY - Not wrong, same goes for battery technology. I think we are a decade or more away from a breakthrough that will render this tech less toxic. Doesn't mean we SHOULD NOT fund research.
(BrianGitt)

The solar industry will sink under the weight of its own trash. Most solar panels won't get recycled because it's too expensive. Governments fear groundwater contamination from the disposal of hundreds of millions of solar panels.
(JohnLeePettim13) :: Each panel is a toxic cocktail of gallium arsenide, tellurium, silver, crystalline silicon, lead, cadmium and other heavy metals. As it leeches into the water table, it's not difficult to imagine the effect on water supplies, the environment and human health.
---
Inflation
Inflation feels good at first but the endgame is grim - Jens O. Parsson
I AM THE EGG MAN..
(Kyla Scanlon)

Egg prices have been impacted by several things

Increase price of bird feed
Avian flu killing chickens
Lowest hen to human ratio in recent history
HOLY CRAP!!
(LynAldenContact)

Official inflation in Argentina is running away at 95%. Interest rates are high too, but they are well below inflation, which results in negative double digit real yields.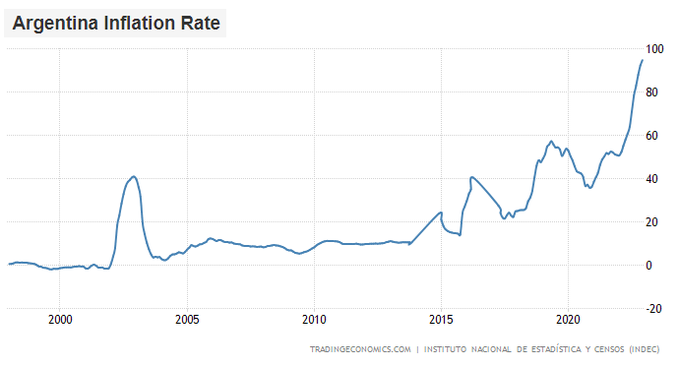 Argentina's broad money supply and consumer price index have been rising at roughly the same pace: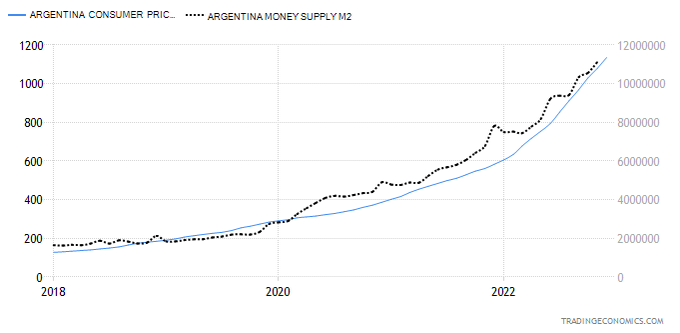 OPINION - Everyone is pricing in unemployement spike but it won't happen, at least for long. Demographics say so, and with it a return of inflation.
(LizAnnSonders)

Clear that CPI (inflation) (blue) has rolled over, but at same time, there hasn't been any meaningful spike in initial jobless claims (orange, inverted)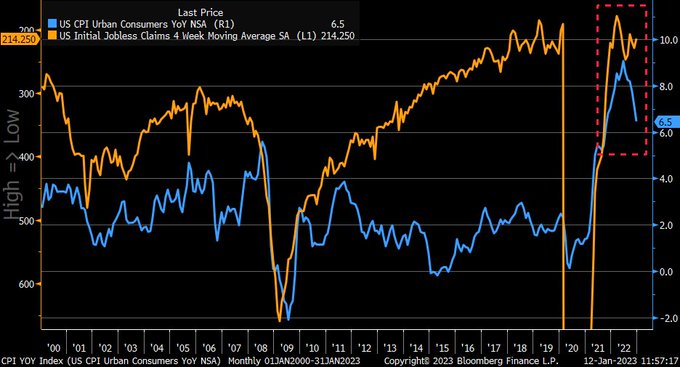 ---
Stock Market
Buy When There's Blood in the Streets - Nathan Rothschild (maybe?)
TAKEAWAY - Not a fan of technical analysis, but this is at least worth considering.
(LizAnnSonders)

S&P 500 rejected again when approaching downtrend line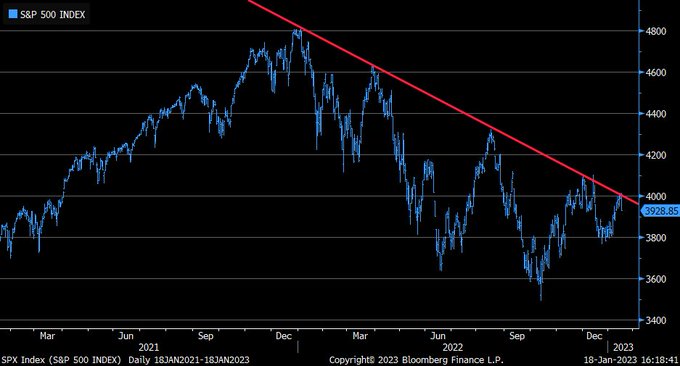 OPINION - Yup, that's what I'm afraid of. And $100 oil might be how we get there.
(LizAnnSonders)

No two bear markets are identical, but interesting to compare current one (orange) to that associated with tech bust in early 2000s (blue) … both indexed to 100 at respective peaks (Past performance is no guarantee of future results)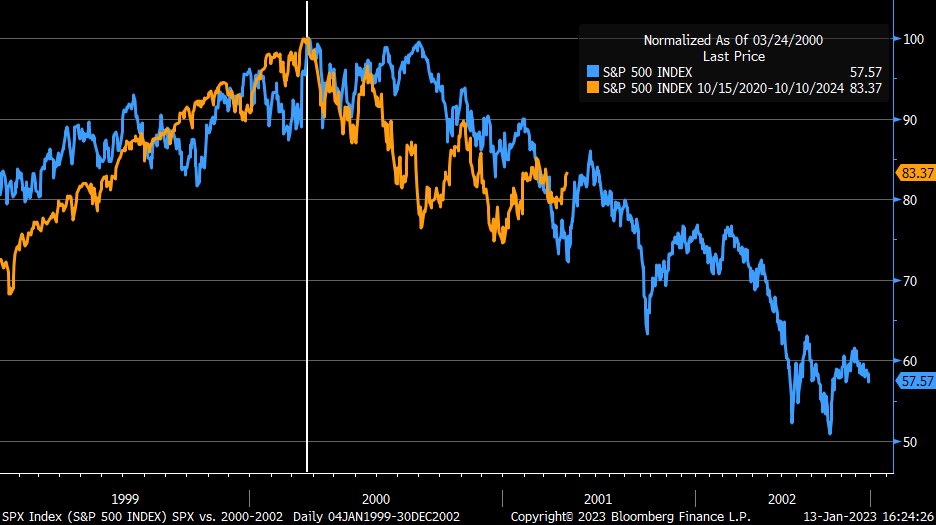 OPINION - Bull market for value, not growth
(dailydirtnap)

I want to repeat and paraphrase a @NateGeraci tweet that he sent recently.
75% of stocks in the S&P 500 are more than 20% off the lows.
This is a new bull market, and the only reason you don't believe it is because of the big dumb tech names.
People will come around shortly.