Notes, thoughts and observations - Compiled weekly
Recession fears, the fed funds rate and resetting energy expectations
TOPICS
---
Labor Market
Maintain austerity in good times to avoid layoffs in bad times. - Carlos Slim
Cracks in employment, but a long way to go. Hunch is employers will use weakening labor market to get employees back into the office, or off the payroll
(LizAnnSonders) :: November ADP payrolls +127k vs. +200k est. & +239k in prior month … huge decline in manufacturing (-100k) and professional/business services (-77k), while leisure hospitality added 224k and education/health services added 55k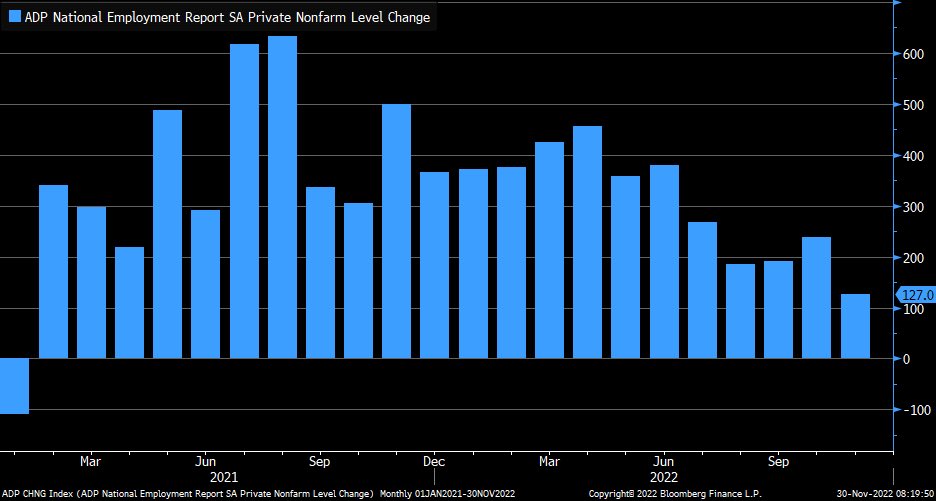 ---
Energy
The Stone Age came to an end, not because we had a lack of stones, and the oil age will come to an end not because we have a lack of oil. - Sheikh Ahmed Zaki Yamani
Energy makes strange bedfellows. Wall Street ESG focus and public opposition to pipelines has US negotiating human rights abusers
(Kyle Bass) :: US inventories of gasoline, diesel, and jet fuel are at dangerously low levels. Wind farms and solar panels aren't going to help us out of this mess. Biden just green-lighted importing additional production from Venezuela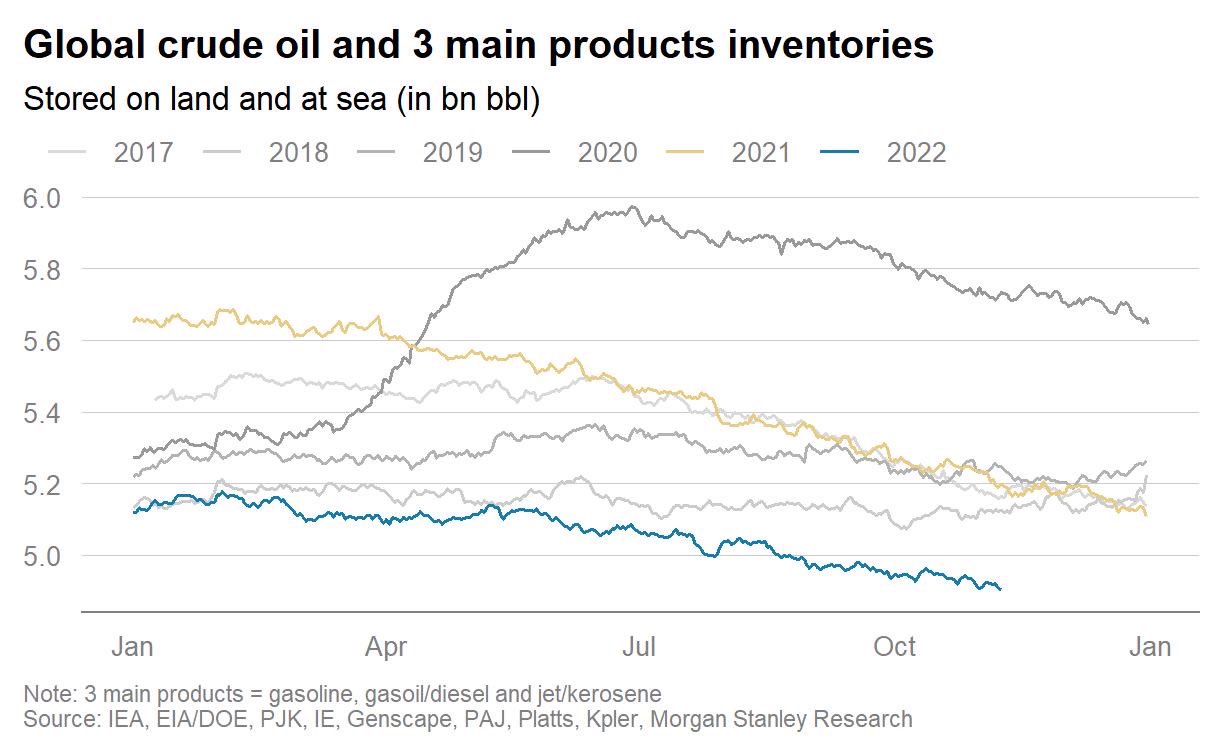 (Dispatch) :: Treasury Department granted a license to Chevron to resume operations in Venezuela

 is unlikely to significantly boost global oil supply in the short-term
President Nicolás Maduro's government and the U.S.-backed opposition coalition agreed to  unlock $3 billion for humanitarian relief.

(The Diff) :: Why They Don't Drill

This is a good paper from commodities investor Goehring & Rozencwajg. One point it makes is that while the unit economics of drilling for oil are attractive right now, the economics of spending that same sum on buying back stock are even more appealing.
A very off-the-wall policy proposal for fixing this would be to expand the strategic petroleum reserve's mandate, and allow it to not just buy physical oil but to buy huge amounts of stock in oil companies, too.
T. Boone Pickens once joked that the cheapest place to drill for oil was on the floor of the New York Stock Exchange.
---
Inflation
Inflation feels good at first but the endgame is grim - Jens O. Parsson
Inflation sticks around, estimates at 5% next year. Fed Options: Over tighten or reset 3% inflation target
(PeterZeihan) :: I received a LOT of inflation-related questions over the Turkey Day holiday. So you know where I stand on the big picture, here's the relevant text call out from the most recent book: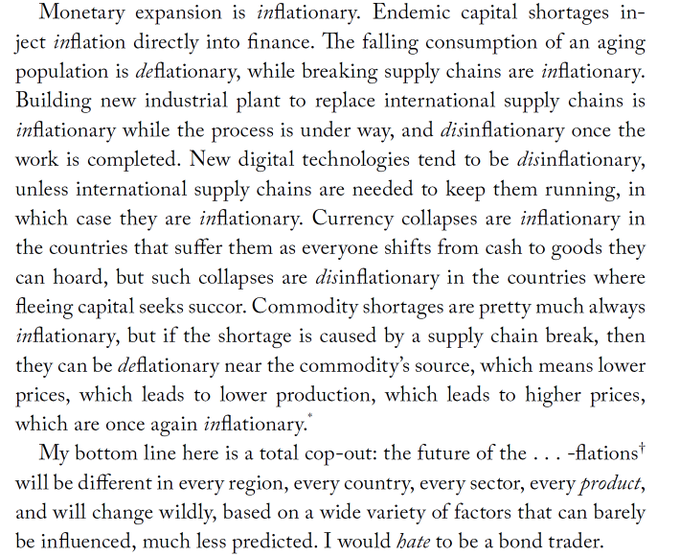 ---
Recession
It's a recession when your neighbor loses his job; it's a depression when you lose yours. - Harry S Truman
Conflicting messages. Will we see stagflation, and how does it materialize? Are tech and healthcare growth companies insulated?
(Jason) :: We are moving into the contagion portion of the recession, where folks who don't need to make cuts (or cut deeply) are slashing spending, headcount, & becoming less audacious with their plans Severance & savings will start running out in Q1 & that's when bankruptcies start

Really hope this doesn't get worse, but starting to feel more pessimistic given what I see from the inside of the startup/VC industry Silver lining is that strong companies get much stronger, & deal terms have normalized—in some cases angel investing feels like a bargain again
Crypto is already done — folks just don't realize it

(Markzandi) :: The more I look for signs that the economy is headed to recession, the more I find reasons to think it can avoid one. Take corporate balance sheets – they're strong. It has been 50 years since nonfinancial corporations devoted such a low % of cash flow to interest expense.

Also note that according to Moody's data, no more than $300 billion in investment and speculative-grade bonds and loans will need to be paid off or refinanced in the coming year. An outsized share coming due is owed by tech, telco, and media companies levered up by PE firms.
To be sure, interest expense is set to rise a lot given the ongoing surge in borrowing costs. Some businesses will have Hobson's choice of cutting payrolls and investments or making their debt payments. And some will have no choices and will default and go bankrupt. But still.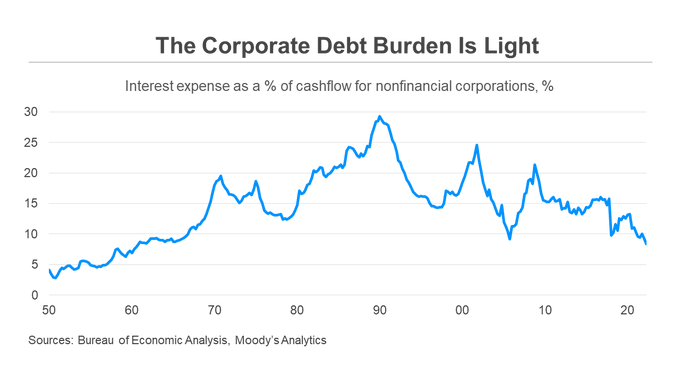 (Lyn Alden) :: Us manufacturing PMI is now in a contraction.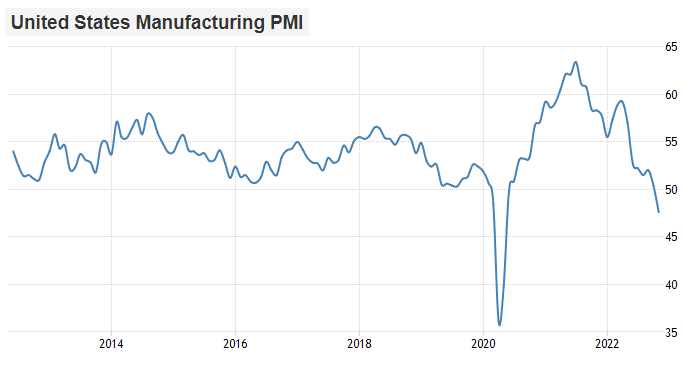 ---
Stock Market
Buy When There's Blood in the Streets - Nathan Rothschild (maybe?)
So much blood. Year end volatility is high, pausing stock purchases
(Five With Fitz) :: Anybody on the sidelines may regret it big time

"the markets will take off like a rocket when the Fed even hints at a pause or a slowdown in the pace at which it's hiking rates."
Big market moves used to be momentum driven back in the day, but now they're a function of computers trading so fast that humans can't keep up.

Digestion—meaning some sideways/upside drift would be normal.
Profit taking—The shorts got scorched yesterday, so there's probably not a lot of positional profit taking up for grabs today.

What to do. I suggest sitting still. The last place you want to be is on the menu when clearly being at the table is the priority.

(John Ellis) :: It is now clear that what happened at the FTX crypto exchange and the hedge fund Alameda Research involved a variety of conscious and intentional fraud

A recent New York Times interview was widely derided for seeming to frame FTX's collapse as the result of mismanagement rather than malfeasance.
Wall Street Journal article bemoaned the loss of charitable donations from FTX, arguably propping up Bankman-Fried's strategic philanthropic pose.
Vox co-founder Matthew Yglesias, court chronicler of the neoliberal status quo, seemed to whitewash his own entanglements by crediting Bankman-Fried's money with helping Democrats in the 2020 elections – sidestepping the likelihood that the money was effectively embezzled.
Many outlets have described what happened to FTX as a "bank run" or a "run on deposits," while Bankman-Fried has repeatedly insisted the company was simply over-leveraged and disorganized.
*Both of these attempts to frame the fallout obfuscate the core issue: the misuse of customer funds.
It's the latest in a series of crypto bankruptcies, following FTX, Voyager and Celsius.

(LizAnnSonders) :: S&P 500's 100-day moving average (green) now moving up slightly while 50-day (pink) has stabilized, and 200-day (yellow) continues to move lower