Notes, thoughts and observations - Compiled weekly
This week marked yet another rate hike by the Fed and predictable market hang wringing. More troubling is the designation that we might not be headed for a recession after all. Meanwhile the alarm bells are still sounding, but are they early or late?
The entire cargo and ground transportation sector is in contraction with freight rates down significantly. Strikes by the Teamsters didn't help Yellow trucking which has all but confirmed they will shut down. Likewise, consumer demand for EVS has stalled with dealers reporting a record number still on the lot.
Meanwhile more companies walking away from half-vacant real estate and many market watchers calling a bubble in AI. The most impressive counter view is the value discount for energy stocks particularly oil.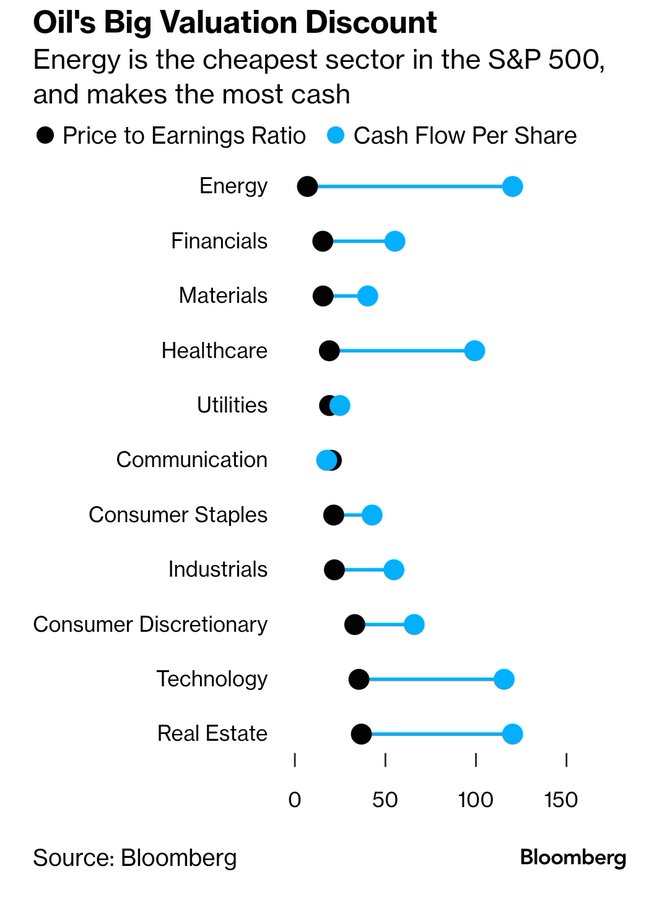 TOPICS
Real Estate
OBSERVATION - More commercial real estate woes
(DiMartinoBooth)

"A Silicon Valley office complex co-owned by @GoldmanSachs may face foreclosure by a @KKR_Co real estate trust that loaned $200 million to the property."
OBSERVATION - Price will correct, but how much? And how many units were speculative rentals in these markets (rather than migration)
(MishGEA)

Case-Shiller Home Prices Percent Change Year-Over-Year Declining Cities: Denver, Las Vegas, Los Angeles, San Diego, San Francisco, D.C., plus the National and 10-City indexes. San Francisco and Las Vegas lead the way, down 11.14 percent and 7.80 percent respectively.
OBSERVATION - Stalling out
(mikesimonsen)

The median price of single family homes is $450,000. That's unchanged from last week and last year. The pricing data is very clear. There are sufficient buyers at these prices and these mortgage rates to keep price up. Home prices should end 2023 up approx 2% over 2022.
Automotive
OPINION - GM vehicle quality on the decline, doubling down on EVs doesn't help the bottom line either
(MishGEA)

How many are EV's? Domestic? I report all kinds of things that are not doom and gloom, such as new home sales last month. I stopped reporting on car sales when GM stopped announcing them. 2018. Since you seem so proud of sales, here you go. It's a lovely trend

Despite Huge Incentives, Supply of EVs on Dealer Lots Soars to 92 Days
OPINION - Will be shocked if Carvana doesn't get wrecked by the combination of interest rates and decline in use car prices
(DiMartinoBooth)

Apologies on paywall if no access. One must wonder how this will work out as recession deepens & used car prices normalize to pre-pandemic levels as borrowers save the repo man the trouble & walk away from their 140 LTV lemons. Is 24-cent haircut enough?
FT - How debtors and creditors steered Carvana away from bankruptcy
Fed Rate
OBSERVATION - The other side of the fed coin
(steveanastasiou)

While most people remain focused on the Fed's interest rate increases, far less attention has been paid to the Fed's QT, which has been a KEY driver of falling bank deposits, and therefore the overall decline in the M2 money supply. Look at how closely the size of the Fed's securities holdings have been correlated to bank deposits since 2020. As long as QT continues at its current pace, there will continue to be significant downward pressure on bank deposits and M2.
Following the release of the latest US money supply data, annual average M2 growth is now -2.7% YoY. This is the largest decline seen since 1933, amidst the depths of the Great Depression. With M2 falling, history suggests that continuing with aggressive tightening is a dangerous proposition — for whether it be the Long Depression (1873-79), the Panic of 1893/1896/1907, the Depression of 1920-21, or the Great Depression (1929-39), a falling M2 money supply has generally been correlated with economic depressions & panics. With the US CPI having recorded 12 consecutive monthly declines in its annual growth rate (a feat only ever seen ONCE before, in 1920-21, when the US saw a deflationary bust amidst falling M2), and the US CPI being just 0.5% YoY after it's adjusted for underlying spot market rents (yes, just 0.5%), now is not the time to be delivering any additional tightening.
OPINION - Fed will overtighten and we'll get the second wave of the recession in 12-24 months
(Sandbox Daily)

The Federal Reserve raised its target interest rate again after taking a brief pause in June which followed 10 straight rate hikes beginning March 16th, 2022.
Today's policy announcement brings the target range on the Fed Funds Rate to 5.25 – 5.50%. This is the highest target policy rate since March 2001.
OPINION - Long term hangover from the zero interest rate days.
(DiMartinoBooth)

"When the Federal Reserve cut interest rates to near 0 to boost the economy, corporations were able to refinance much of their debt, locking in low rates for the long term. This enabled corporate net interest payments to fall even while Fed was hiking rates."
albertedwards99 - Presenting the maddest chart I have seen for a long time Normally in a tightening cycle, corporates (huge net borrower) suffer a big rise in net interest payments. But not this time which has boosted profits and also helps explain the delayed recession
Cargo Ground Transportation
OBSERVATION - Industry in contraction, death spiral for a company, the weak are separated
(FreightWaves )

BREAKING NEWS: Yellow's senior vice president of sales informed her staff on Wednesday that their last day would be Friday and the less-than-truckload carrier will file bankruptcy on Monday, according to three employees who attended the video call.

(Mauldin Econ)

The cost of moving goods via truck is quoted on a per-mile basis. And between 2020 and 2022, spot trucking rates soared to around $3 per mile.

..trucking spot rates have collapsed. The current spot rate is around $1.50 per mile—a 50% haircut.

(FreightAlley)

ThIs may only extend Yellow's life by a few weeks - the company was a precarious position before the Teamsters threatened to strike. Over the past week, so much freight being pulled due to uncertainty, it's in a far worse position. That freight is unlikely to come back.

Wow - the pension fund has agreed to extend health benefits to Teamster members. Teamsters calls off strike.
Energy
OPINION - Energy is still vastly underinvested due to ESG hang-over
(chigrl)

Energy is the cheapest sector in the S&P 500, and makes the most cash
AI and ML
OPINION - AI bubble for sure, long term companies that apply AI & ML will win out
(Seeking Alpha)

J.P. Morgan bear Kolanovic spies AI bubble
"The equity rally over the past 2 months implies macroeconomic scenarios that are even more positive than a soft landing," Marko Kolanovic