Notes, thoughts and observations - Compiled weekly
Inflation eases, predictions of recession fade and bankruptcies accelerate.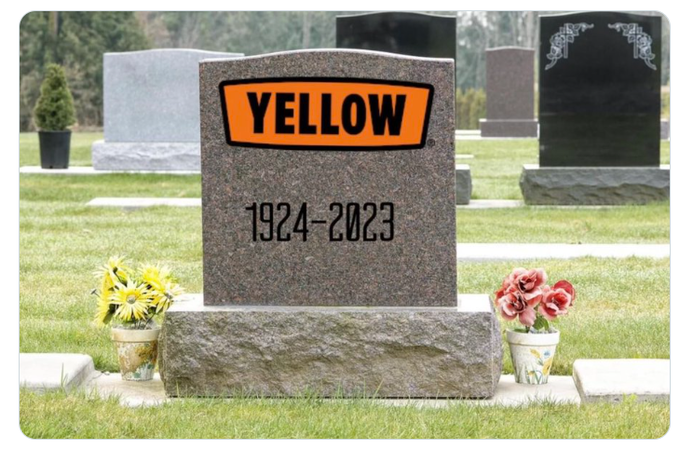 TOPICS
Real Estate
QUOTE - "If a recession is going to come quickly its not going to be driven by the real estate sector"
(BobEUnlimited)

Typically housing leads the economy because it is one of the most interest rate sensitive sectors. But it also can have direct impact on the rest of the economy as layoffs occur. So far residential construction jobs have been pretty stable at just off cycle highs.
OBSERVATION - Residential construction finally slowing down, despite record low inventory
(IBK)

Residential construction, however, is sagging, with mortgage interest rates of nearly 7% creating a huge headwind for home buyers.
Last month, permits for new home construction fell to 1.44 million seasonally adjusted annualized units (SAAU), 3.7% less than the previous period's rate of 1.496 million.
Today's June data also missed the consensus expectation calling for 1.49 million.
OPINION - Commercial real estate troubles expanding beyond New York and San Francisco
(Fortune)

Commercial real estate billionaire Barry Sternlicht's firm just defaulted on a $212.5 million Atlanta office tower

Mortgage on Tower Place 100, in the Georgia capital's Buckhead district, matured on July 9 and Starwood failed to refinance or pay off the debt
Tower Place 100 was 62% leased as of the end of 2022, down from 87% in 2018 when the loan was originated

The delinquency rate for offices with commercial mortgage-backed securities swelled to 4.5% in June from 1.7% a year earlier

Most CMBS financing is non-recourse, which means owners can walk away from properties without exposing themselves to further financial damages.

The Atlanta area's office-vacancy rate climbed to 22.4% in the second quarter, compared with the US average of 20.6%, according to brokerage Jones Lang LaSalle Inc.
OPINION - San Francisco is still a unicorn, this time in real estate decline
(danjmcnamara)

Marc Benioff says downtown San Francisco is 'never going back to the way it was' as experts grapple with turning around the ghost town
Inflation
OBSERVATION - Prices are falling as inflation eases
Bankruptcy
OBSERVATION - Freight rates about to go up
(MishGEA)

Yellow Truck Headed for Bankruptcy, 22,000 Union Jobs Go Poof, What It Means Excellent series of Tweets on this subject by @FreightAlley Ironies abound.
FreightAlley - The consequences are significant, but Yellow doesn't intend to pay its union contractual obligations.
Stock Market
QUOTE - "back out the FAANG stocks and the forward P/E.. stands at 16.4X"
(Sandbox Daily)

Is the market overvalued or fairly valued?

The Nasdaq-100 index leads the way up +44.7%, while the S&P 500 and Dow Jones Industrial Average each post double-digit gains (+18.9% and +12.2%, respectively).
The S&P 500, Nasdaq-100, and Dow Jones are all within 5% of all-time highs!!

"In our view, the stock market bottomed October 12, 2022 and the rise over the past 9 months is the start of a new bull market."
What is puzzling investors is the market multiple. Stock prices are rising fast, even if profits are not (i.e. earnings recession).

..back out the FAANG stocks and the forward P/E multiple of the S&P 500 ex-FAANG stands at 16.4X, a mere +0.7x increase from 15.7x at start of the year.
OBSERVATION - Ominous road ahead for the market
(LizAnnSonders)

In first 5 months of year, >100% of S&P 500's gains were driven by 10 largest constituents (meaning remainder detracted value); rally has broadened significantly in past 1.5 months;  although 7 of 10 top contributors between January and May also feature among top contributors since June 1, top 10's total contribution to return has fallen to just over a third between June 1st and yesterday's close
OBSERVATION - Ominous road ahead for the market
(DiMartinoBooth)

Come on in! The water is PERFECT!
Solactive Roundhill Meme Stock Index, tracking crowd's favorite shares, rallied ~8% this week, led by crypto-related stocks
Day traders scooped up net $2.8B of shares in week though Tuesday, an amount that's way above its 12-mo avg