Notes, thoughts and observations - Compiled weekly
Rolling together two weeks of notes and noticing big trends in real estate, the impact of rising rates and the labor force.  Realtor.com reports a record low number of listed homes for sale, which will put upward pressure on prices but also benefits services, home improvement and rental property. 
Inflation numbers came in and continue to trend downward, but the consensus is that the Fed will continue to hike rates until it hurts (or YOY inflation goes negative as history indicates). Higher rates won't make Wall Street happy for long but will have a real impact on both corporate and private debt. The former will impact the earnings bottom line, and the latter in the form of lower consumer spending. 
The question everyone is asking "Are we having a recession or not?". It's less of "if" than "when" as all eyes fix on the still inverted yield curve. The real question is hard landing or soft landing. A lot of conjecture and uncertainty. 
Finally, what does Gen Z want? More precisely, as they enter the workforce, what do they want from the work relationship? Gen X historically wanted to come in, work and go home. Millennials demanded more of their employers. But has Gen Z been in the workforce long enough to know what they truly want?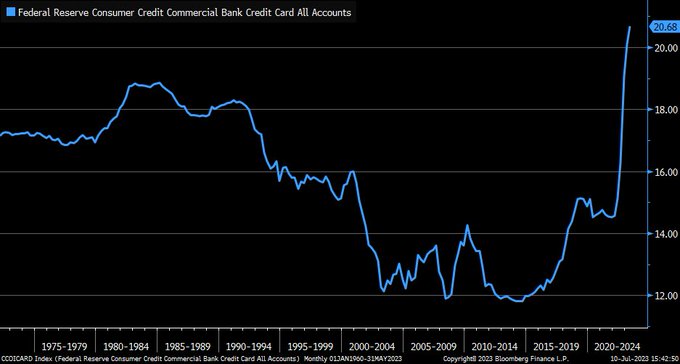 TOPICS
Real Estate
OBSERVATION - Trend with the "end" of starter homes and the lock-in for 20 years among new buyers.
(Calculated Risk)

New Listings Near Pandemic Low for June

In June, the number of homes newly-listed for sale declined by 25.7% compared to the same time last year.
OBSERVATION - Rentals during the peak of remote work?
(DiMartinoBooth)

Bunking up writ large.
GRomePow - Skyrocketing rental vacancy rates noted by ApartmentList now being confirmed by Arbor Research I thought there was a housing shortage?
OBSERVATION - Weird statistic that doesn't make realistic sense
(DiMartinoBooth)

"The National Association of Realtors said in March that baby boomers now make up 39% of home buyers — the most of any generation — and an increase from 29% last year."
Inflation
OBSERVATION - Aftershock of the pandemic; will plunge negative before fed pivots
(The Sandbox Daily)

Headline Inflation - CPI: +3.0% YoY, versus +3.1% estimate and prior month of +4.0%
Core Inflation - CPI ex-food and inflation: +4.8% YoY, versus +5.0% estimate and prior month of +5.3%
Fed Rate
OBSERVATION - Corporate debt is a concern here
(Sandbox Daily)

Small-cap companies face risks from rising rates

Russell 2000 companies are more vulnerable to the risk of rising interest rates than their larger counterparts.
Debt
OPINION - Will dampen consumer spending
(LizAnnSonders)

Credit cards issued by commercial banks have interest rates soaring close to 21% as of May, which is a record in Fed data going back to early 1970s
OPINION - Take is overblown, consumers not near default but pull back in spending will be bad for many industries
(DiMartinoBooth)

Lagged May consumer credit on dock in 15 minutes.
jameslavish - With credit card balances soaring and interest rates on those cards skyrocketing, the average consumer will soon have no choice but to cut off spending or risk default. Even then, it is likely too late for many.
Recession
OBSERVATION - Still negative sentiment
(LizAnnSonders)

Small Business Optimism Index from @NFIB rose in June to 91 vs. 89.9 est. & 89.4 in prior month … outlook component (orange) still in negative territory but rose to -40 (highest since February 2022)
OBSERVATION - Consumers starting to pull back, will accelerate into Q3
(spomboy)

Here's your "indefatigable" consumer…Weekly Same Store Sales just entered contraction. And that's BEFORE accounting for inflation.🤫
OBSERVATION - Consumer pull back, end of "revenge spending"
(FreightAlley)

A few weeks ago, I was told by a Grand Canyon helicopter tour operator that sales were down 40% YoY. Looks like it's hitting Disney as well.
texasrunnerDFW - Post-pandemic vacay demand has fizzled out Now, whatever will we do with 5.6 million bed and breakfast rentals scattered in residential neighborhoods across the world?
Labor Market
OPINON - Nice try. Gen X just wants to be left alone to do their job. Not sure what Gen Z "seeks" as they've barely been in the workforce for more than a handful of years.
(kylascan)

"Then there's the work itself…the prevailing work culture, defined by baby boomers and Gen X, is already outmoded in being able to deliver the freedom Gen Z seeks."
wrote a piece on the future work - and how it's changing across generational lines
OPINION - Still an above average employer with higher than average wages. This chart represents the overhire of the pandemic years.
(TheEconomist)

Over the past year and a half, the tech industry has shed some 300,000 workers. We meet the computer science students having to frantically reassess their options