Notes, thoughts and observations - Compiled weekly
Apple ski goggles.. you know you want them, or do you?
A lot of hot takes about everything from recession to remote work. Thinking these wlll become political wedge issues.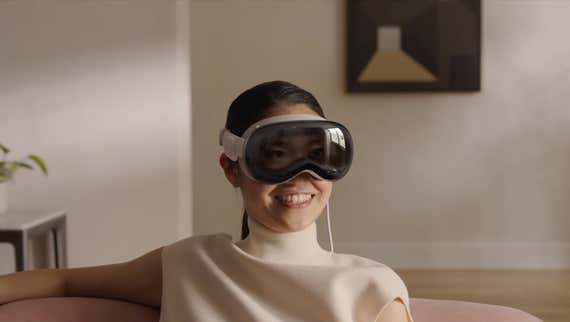 TOPICS
Labor Market
OPINION - This is a really weird, and pervasive, take that defies real world observation. Ivory tower economists need to get out on the street or risk losing all credibility.
(DiMartinoBooth)

"If you look back over the past 12 months, 37% of those jobs were made by a BLS birth/death adjustment."
RobertKarsten6 - When I drive down the street in front of my condo there are help wanted signs at the fast food restaurant, the bank branch, the nursing home, and the Tyson plant. I'm pretty sure those are all real jobs. The Gentex plant is building a daycare center on site to get workers.
OBSERVATION - Contradictions have contradictions
(LizAnnSonders)

Still a major bright spot: prime-age labor force participation rate rose again in May; now at highest since January 2007
OBSERVATION - Labor market not as weak as some feared
(The Dispatch)

U.S. employers added 339,000 jobs in May, well above expectations and the largest month-over-month gain since January.
March and April's reports were retroactively revised up by a combined 93,000 jobs as well.
Average hourly earnings—a measure the Federal Reserve is watching closely in its fight against inflation—rose 0.3 percent month-over-month in April, and 4.3 percent year-over-year.
Real Estate
OBSERVATION - Key swipes are topping out. Remote work seen as an employee benefit by employee and employer alike.
(Ritholtz)

Actual Office Space Occupancy (Measured by Card Key Swipes)

Many firms now recognize WFH's competitive advantages or are beginning to do so

If the WFH trend becomes permanent, firms will need to downsize their office space as their leases expire.
This downsizing could result in a contraction of the office sector as significant as that of regional malls in the 2000s.
OBSERVATION - A real estate correction in China could have serious implications for the economy and happiness of citizens.
(Noahpinion)

Real estate is China's economic Achilles heel
It's the country's biggest engine of growth an employment, financial asset, and source of government revenue.
Real estate as economic engine and source of mass employment
OPINION - A weird take, imply that credit worthiness of homebuyers is in question. We were assured, by data, that it was not.
(DiMartinoBooth)

"Demand shows 62% of Americans who recently purchased homes in 2022 and 2023 are not managing to make their mortgage payments. Add on an average of $393 per month for 40 million Americans in that same millenial cohort that is recently become homebuyers…

TAKEAWAY - Danielle's take is that we are already in recession.. and is trying to back it up. Housing doesn't matter, but yeah we are in a recession.. but it's short.
OBSERVATION - SF commercial real estate meltdown
(MishGEA)

The 1,921 Room Hilton Union Square Hotel in San Francisco Was Just Abandoned

One of the largest hotels in US was forfeited by owner to the lender.

Commentary

Virginia-based REIT Park Hotels & Resorts has opted to cease payments on a $725 million loan essentially surrendering over 2,900 hotel rooms and hospitality facilities to its lender
Walking Away from 50% Equity?!

Not really. What this means is the appraised value is Bullsheet.
If the appraised value of one of the biggest hotels outside of Las Vegas is Bullsheet, what does that say about the value of every building in downtown San Francisco?

Reappraisals Needed

Every property owner in San Francisco ought to be pressing for property tax adjustments.
Stock Market
TAKEAWAY - State the obvious. Always expected a rally coming our of the first phase of the down turn; which is likely double-dip at this point.
(ibkrcampus)

Why Stocks Won't Retest the Lows

"The rally is too narrow. It moved up too fast. Stocks are not paying attention to macro fundamentals. Stocks have disconnected from micro fundamentals. There are just so many reasons why a rally should not have happened – and yet here we are. On the verge of a … wait for it … bull market."
OPINION - Bottom about to fall out of the FAANG stocks
(rhunterh)

Laugh all you want, everyone's retirement is riding on this
Precious Metals
OBSERVATION - Pretty obvious outcome, shocking quick though
(LynAldenContact)

The Bretton Woods system was proposed in 1944 but it didn't really go into full effect until 1958, with the elimination of exchange controls for current-account transactions. h/t @joakimbook
From that point, it's shocking how fast the system failed. Just 13 years from 1958-1971.
OBSERVATION - An obvious hedge
(LynAldenContact)

On average, gold tends to outperform stocks in the two years after a yield curve inversion.
Great charts as always from the latest IGWT report.
Energy
OPINION - Impact of global recession, domestic US production (and slow economy)
(The Dispatch)

Saudi Arabia announced Sunday after an OPEC meeting it will unilaterally cut production by 1 million barrels per day in July
OPEC-wide cuts—more than 1 million barrels per day announced in April and 2 million a day in October—failed to buoy oil prices for long amid concerns that looming recessions
OPINION - Oil priced at $80 per barrel equilibrium
(Sandbox Daily)

A disastrous month for oil

Finished May with its worst monthly performance – down more than 10%-15% depending on which oil blend – since November 2021.

Crude oil continues to find an overwhelming amount of overhead supply at approximately $72-74 per barrel.
OPINION - Lack of demand for oil indicates an economic contraction
(Over My Shoulder)

Voluntary OPEC production cuts announced in April failed to push up prices as desired.
Market sentiment has deteriorated, largely because Chinese economic growth hasn't rebounded as much as expected.
On the supply side, Russian data is opaque but the sanctioned country appears to have been pumping and shipping a much as it can.
This implies Russia has little or no capacity to raise production in the near term.
Russia also has no interest in triggering another price war with Saudi Arabia as it did in 2020.## Energy
Domestic Semiconductor
OPINION - Supply chain stocks not a bad growth area, bellwether producers more stable and probably better dividend.
(Seeking Alpha)

Semiconductor industry may dip in 2023, but rebound expected in 2024

Global semiconductor market is expected to see a double-digit downfall in 2023, according to World Semiconductor Trade Statistics
2024 looks brighter, with the industry body forecasting an estimated 11.8% growth for the year.

Other categories including Discrete, Sensors, Analog, Logic, and Micro will likely show single-digit growth

Top semiconductor ETFs include: VanEck Semiconductor ETF (SMH); iShares Semiconductor ETF (SOXX); SPDR S&P Semiconductor ETF (XSD); Invesco Dynamic Semiconductors ETF (PSI); ProShares Ultra Semiconductors (USD); First Trust Nasdaq Semiconductor ETF (FTXL).
Top semiconductor names: Intel (INTC); Micron Technology (MU); Texas Instruments (TXN); Qualcomm (QCOM); NXP Semiconductors (NXPI); Microchip Technology (MCHP); Applied Materials (AMAT).
Remote / Distributed Work
OPINION - Tired old story, and why big tech/big cap won't give up until everyone is back in the office 5 days a week. OPINION - Tired old story, and why big tech/big cap won't give up until everyone is back in the office 5 days a week.
(Seeking Alpha)

Google mulls attendance logs, Salesforce tries charity to lure staff to office - reports

Google adding office attendance logs to employees' performance reviews
Already has a hybrid work policy in place - employees are expected to work in office three times a week

Salesforce resorting to charity to bring its employees back to the office

Announced an initiative called 'Connect for Good'
Will donate $10 to a local charity for each day an employee comes to the office during June 12-23