Notes, thoughts and observations - Compiled weekly
Another weird week with sources debating a current recession vs other sources predicting the next recession. Not much to say aside from the next few years will be tumultous for the stock market.
TOPICS
Real Estate
OBSERVATION - Housing prices becoming permanent
(kylascan)

About 15% of new homes sold were under $300K in April 2023. This is up from recent months, but down from around 80% in 2002.  In general, the under $300K bracket is going away"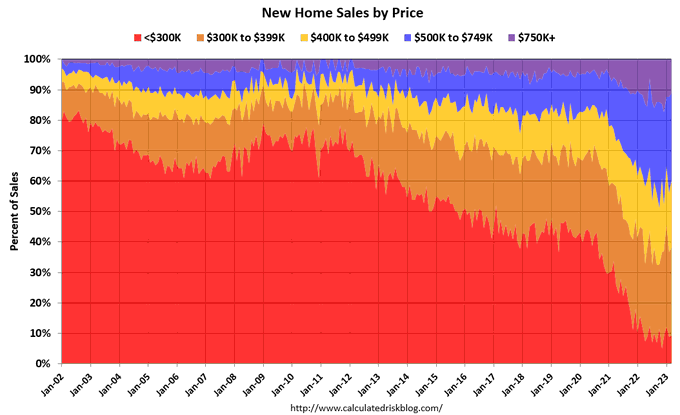 (mikesimonsen)

Case Shiller should drop to negative YoY when it reports May at the end of July.

calculatedrisk - Case-Shiller: National House Price Index increased 0.7% year-over-year increase in March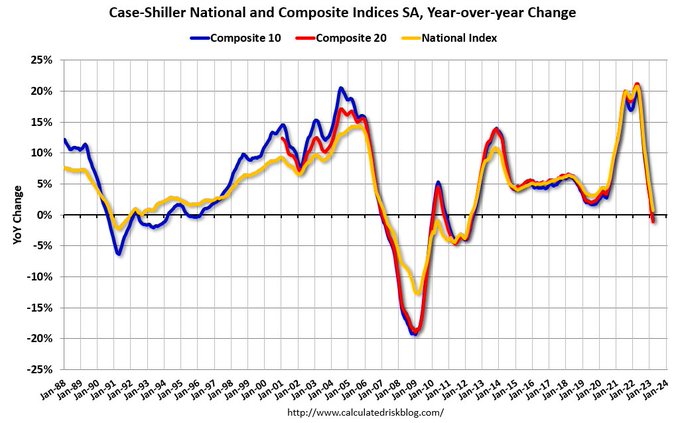 (DavidSacks)

Update: LA office towers are selling for less than the amount of debt on them. This is true for SF too and other big cities.

L.A.'s office towers have, on average, $230 in debt per foot, The only building to sell this year went for $154 per foot. That's a lot of water. LA's biggest landlord, the Canadian giant Brookfield, has defaulted on more than a billion $ of loans this year
Recession
OBSERVATION - Contraction data
(LizAnnSonders)

May Dallas Fed Manufacturing fell to -29.1 vs. -18 est. & -23.4; new orders, shipments, delivery times, and outlook all fell further into contraction; production and capex flipped from expansion to contraction … notably, employment ticked slightly higher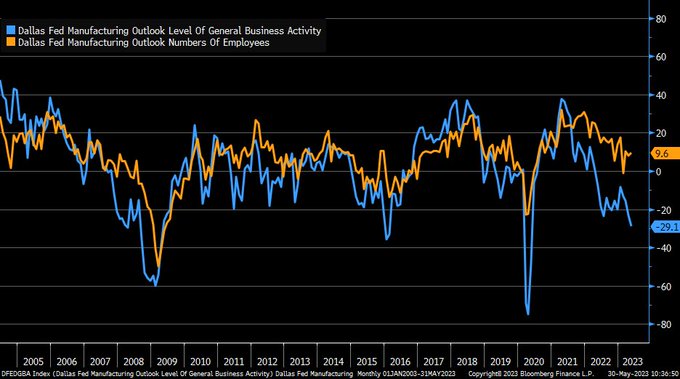 OBSERVATION - Weird metric, but OK
(LynAldenContact)

The ye olde beef-to-poultry economic indicator.

TheTranscript_ - $COST CFO: "Historically,…we've always seen, when there's a recession, whether it was '99 or '00 or '09 – '08, '09, '10, we would see – some sales penetration shift from beef to poultry and pork. We have seen some of that now"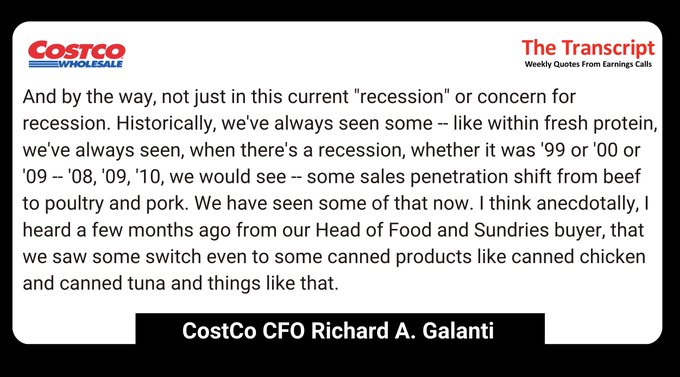 OBSERVATION - Signs abound
(MishGEA)

Gross Domestic Income GDI Suggests the US Is in Recession Right Now Gross Domestic Income (GDI) and Gross Domestic Product (GDP) are two measures of the same thing. But they radically differ in outlook.
OPINION - Second wave hits in Dec 2023 - Aug 2024
(EPB Research)

Yield curve inversion predicts recessions

historical significance of the 10YR3M spread and accuracy in predicting economic downturns

This time it's different? Not really. Two paths we can take:

1974 Recession

Similar b/c of inflationary dynamics
Unemployment rise 12 months after inversion

2008 Recession

Unemployment rise 20 months after inversion
Energy
OPINION - Natural gas demand weak, for now. Long term impact of Russia skirting the embargo to be seen.
(Seeking Alpha)

U.S. crude oil slides below $70; natural gas plunges on record output
Tensions have been rising between Russia and Saudi Arabia, with Russia pumping increasing volumes of cheap heavy crude oil onto world markets, which has been undermining Saudi Arabia's efforts to boost prices.
U.S. natural gas futures (NG1:COM) continued their slide, with the new front-month July contract closing -3.7% to $2.327/MMBtu following last week's loss of 16%, on record production and forecasts for milder weather and lower demand over the next two weeks.
OBSERVATION - Worldwide demand for services
Automotive
OPINION - Strength in quality, buyers planning to keep cars longer
(DiMartinoBooth)

Something to be said for reliability. I'll NEVER sell my 2002 Land Cruiser.

Luckylopez - Toyota's are still going over MSRP! Even at Auction 😳 While other brands struggle to sell new cars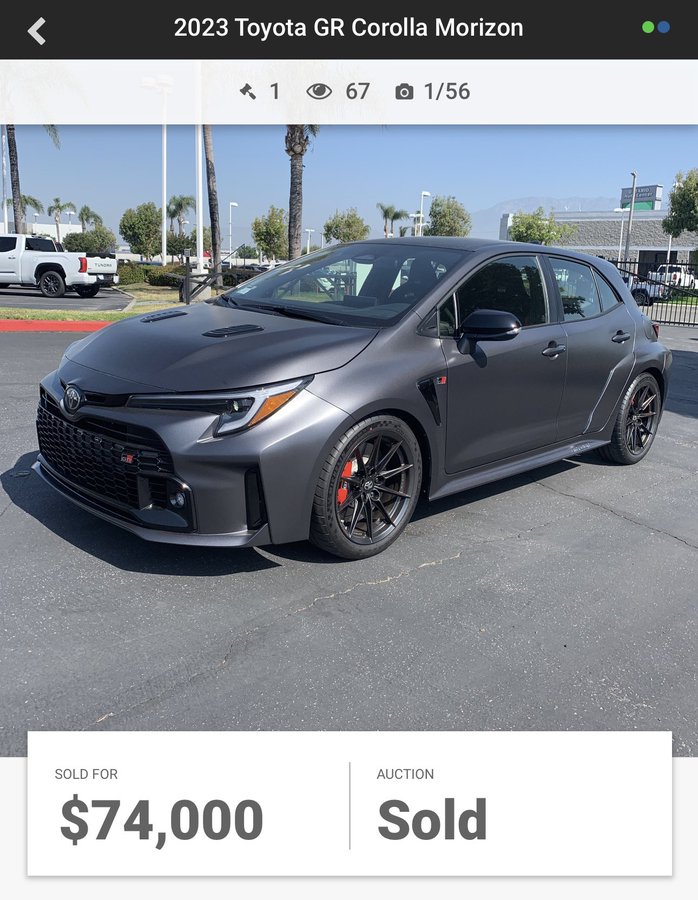 Stock Market
OBSERVATION - Too good to be true (part 2)
(DiMartinoBooth)

The momentum is unquestionably there. Best to know underlying drivers though.

themarketsniper - $NVDA Bear Trap blow off? OBV however still shows a degree of net accumulation, if less extreme than price. @DiMartinoBooth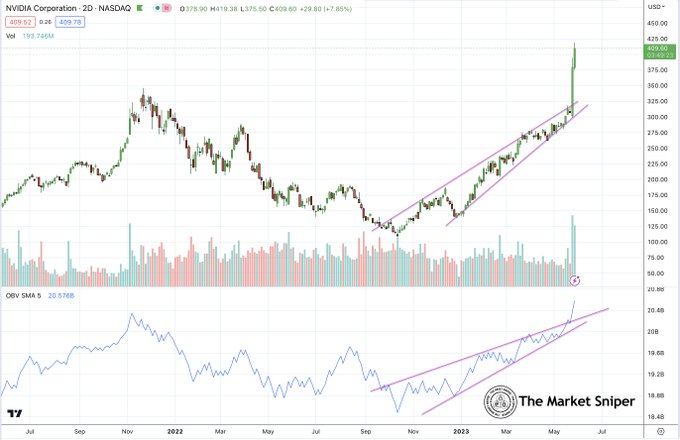 OBSERVATION - Too good to be true
(DiMartinoBooth)

Less than meets the eye @t1alpha
Its models suggest NVDA has been under distribution w/>shares sold against bid v the ask. Large lots being sold (efficiently) & small lots being acquired (inefficiently). Given short-seller strike, this suggests far less support than presumed.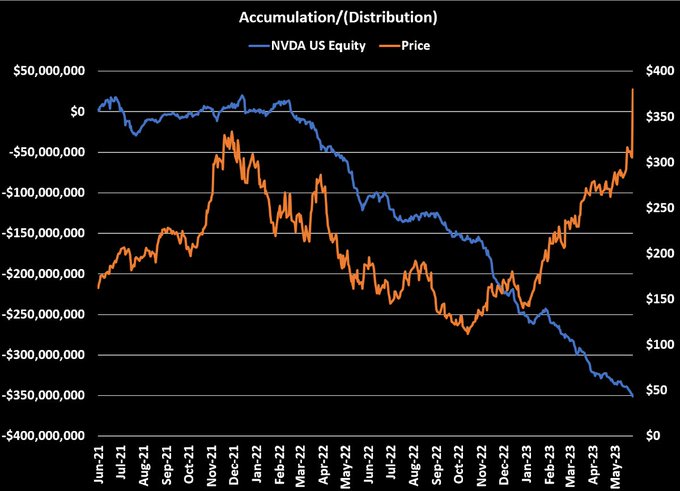 OPINION - "Narrow markets are not always the healthiest markets."
(Sandbox Daily)

Breaking down the S&P 500 YTD returns

96% of this year's S&P 500 return contribution is coming from its 10 largest constituents.
No other up years for the S&P 500 index come even close, except 2007.
Narrow markets are not always the healthiest markets.

You can clearly see this when comparing the market-cap weighted index versus its equal-weighted counterpart. The cap-weighted index is outperforming its equal-weighted peer by over 9%, the biggest difference since 1999.

The 3-month performance spread between the two is the widest it's been since December 1999, the move largely beginning with the fallout from the regional banking mini crisis from March.
OBSERVATION - Some questioning the prediction of productivity gains from AI. Low interest rates mattered, capex mattered.
(BobEUnlimited)

Talk of $NVDA reminds of a convo with @CameronDawson and @MikeIppolito_ on 90s tech bubble.
Productivity is not enough. It was driven by a capex boom. For AI to push the market higher, you have to believe companies will do massive investment. Maybe.
OBSERVATION - Something seems weird
Excitement around "big tech" has sent NASDAQ 100 to its highest since April 2022, with index having retraced more than 50% of its decline (peak was in November 2021) [Past performance is no guarantee of future results]
Precious Metals
OBSERVATION - An obvious hedge
On average, gold tends to outperform stocks in the two years after a yield curve inversion.
Great charts as always from the latest IGWT report.