Notes, thoughts and observations - Compiled weekly
Mixed recession opinions but I think we are starting to see more global signs as the American consumer remains strong, albeit pushing back against ever rising prices. On the flip side much concern about rising retail inventories and future price cuts that will impact on the bottom line.
On a more positive note, the potential for emerging battery technology extends well beyond electric vehicles. Renewable energy sources can leverage batteries to address the intermittency problem.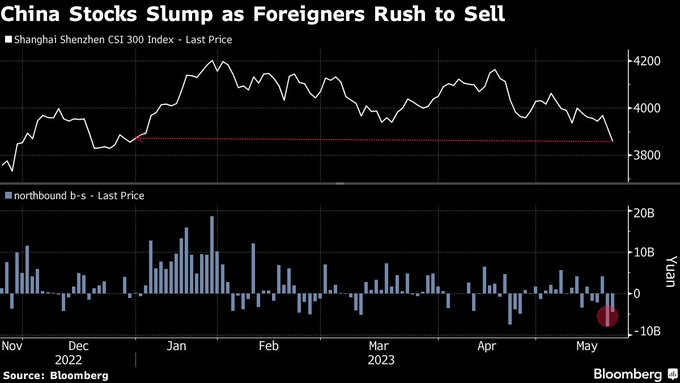 TOPICS
Real Estate
OBSERVATION - Big city real estate is ripe for a reckoning
(Bloomberg)

NYC Skyscrapers Sit Vacant, Exposing Risk City Never Predicted

City says vacancy rate won't dip below 19% before 2026
Office vacancies hit a record 22.7% this year amid remote work

Asking rents in Manhattan offices averaged $75.13 per square foot in April 2023, down 50 cents from a year prior

City officials, who for the last decade have relied on an ever-expanding commercial real estate sector for taxes to pay for schools, cops and trash collection.
Commercial property taxes contribute about 20% of the city's total tax revenue — with office buildings, specifically, contributing 10%.
Recession
OBSERVATION - Reslient consumers poised to take advantage of price cuts to clear out excess inventory
(TKer)

Good news: Personal consumption is holding up!

According to Census Bureau data, retail sales in April climbed 0.4% to $686.1 billion.

Just last week, San Francisco Fed researchers estimated consumers were still collectively sitting on $500 billion in excess savings

Retailer earnings, meanwhile, have been a bit mixed.

Warren Buffett warned earlier this month that most of his many companies expected to report lower earnings this year.

In addition many of his companies would be selling goods at unfavorable prices as they clear out excess inventory.
"It is a different climate than it was six months ago, and a number of our managers were surprised," Buffett said. "We'll start having sales at places where we didn't need to have sales before."

The big picture 🤔 :: Economic recession remains at bay thanks to an increasingly employed American consumer with a strong balance sheet.
OBSERVATION - Global slow down
European luxury stocks incl @LVMH & @gucci owner Kering SA as well as @Hermes_Paris & @Burberry extended a rout that's wiped about $56B from the sector over the past two days on concerns China is slowing anew amidst political rancor in the U.S. & global recession.
OBSERVATION - China starting to feel the pressure
"While you were sleeping, China's benchmark stock index erased all its gains for the year as a weaker yuan and developers' debt woes added to persistent worries over growth & geopolitics." Those 'commodities supercycle' calls will have to wait…another year.
Inflation
OBSERVATION - Times are tough, consumers have had enough
(DiMartinoBooth)

"My favorite indicator the grocery circular. It is getting thicker…Going back to pre-Covid levels of discounting. That is telling me there is pushback among U.S. households."
Battery Technology
OBSERVATION - Battery tech investment ideas need to extend beyone EVs
(John Maudlin)

In Gene Berdichevsky's view, battery tech isn't just for transportation; it is key to the bigger green energy vision. Storing large amounts of electricity helps solve the "intermittency" problem in wind and solar production.

Gene Berdichevsky of battery tech leader Sila was one of the early Tesla leaders in batteries (the #7 employee) and left to pursue a broader vision for power storage.

Batteries are simply chemical reactions

Sila works on making batteries more efficient, lighter, and less expensive.