Notes, thoughts and observations - Compiled weekly
Are we going to see the first layoffless recession? Similar to stagflation, we could go into a recession while there is a worker shortage because due to an aging labor force due to a lack of immigration
TOPICS
Financial
OBSERVATION - Market betting on future banking troubles
(biancoresearch)

The bank stocks continue to sink. Regional banks (orange) are now at a new closing low since the bank failures a month ago. Good thing the banking crisis has stabilized. Otherwise, the bank stocks might be in trouble … oh, wait! Seriously, I would argue the issue is profitability, they have to raise deposit rates to stop the outflows, and not solvency fears of more failures.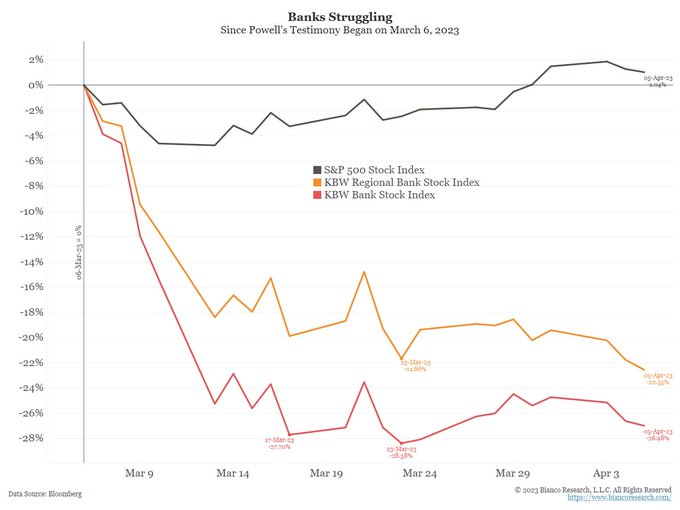 OPINION - Watch for price discovery on commercial real estate (office buildings and retail) to establish how underwater small bank balance sheets are.
(EPB Research)

Why the 2023 Banking Crisis is Just Getting Started

US banking system's market value of assets is $2 trillion lower than suggested by their book value of assets accounting for loan portfolios held to maturity.

Not a problem, unless customers pull their deposits
If held to maturity, banks recoup their losses; only a problem if they have to sell now to create liquidity

Fed opend the Bank Term Funding (BFT) and the Discound Window to help meet liquidity needs

Rising interest rates put treasuries underwater, this mechanism allows banks to take a loan to pay back depositors
Catch is that bank deposits were paying 1% interest, the BFT and Discount Window is 5%

Interest paid will sky rocket, making them a zombie bank

Small banks vs large banks

Large banks are too big to fail, backstopped by the government
Large banks are heavily regulated
Small banks loans make up 65% of assets (vs 51% at large banks)

Loans lean heavily toward commerical real estate
Real Estate
OBSERVATION - Smaller banks hold more commercial real estate loans
(Clips that Matter)

Offices are mostly empty space these days.

It's reasonable to think companies whose workers aren't regularly in the office will probably reduce their office footprints
This is bad news for the commercial real estate industry and, crucially, its lenders and investors.

(rex_woodbury) - This is such a fascinating chart to me—looks like office occupancy is plateauing at ~50%. Interesting to think through the ripple effects on real estate, politics, and the types of jobs workers choose.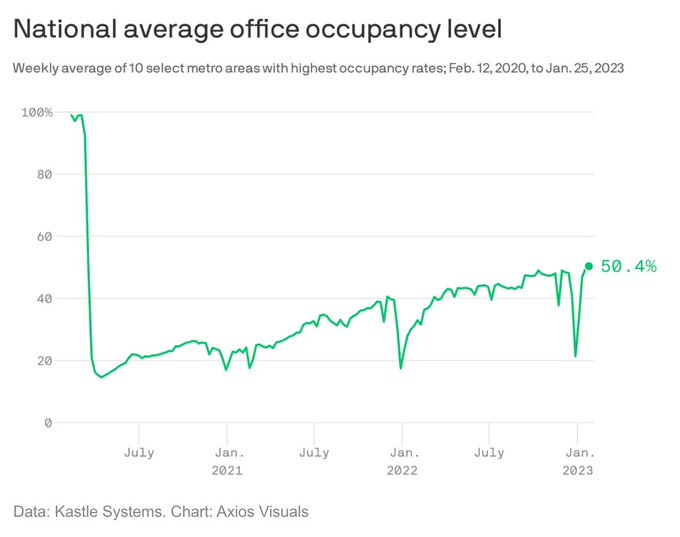 OPINION - Don't expect residential real estate prices to ease due to low supply
(Mauldin Economics)

Banking System at Risk? Housing Expert Barry Habib on the Return of MBS
An outlook on 2023 housing prices and mortgage rates

If prices fall to 5% it will cause price increases due to low inventory and high demand.

Whether there's any relief for homebuyers coming on the supply side

Spike in birth rate 30 years ago leads to 2 million in home demand
1.4 built in next year, 100k homes retireed due to aging
Labor Market
OPINION - So similiar to the post dot-com era, tech shedding jobs but folks finding work in other sectors, for now
(TKER)

Elevated hiring activity explains why layoffs haven't led to higher unemployment.

The numbers help explain why, despite heavy news coverage of layoffs, the unemployment rate remains low and claims for unemployment insurance remain depressed.
As the economy cools, hiring activity will be a key metric to watch, because a hiring slowdown could force unemployment higher if laid-off workers are unable to land new jobs.
OPINION - Small cuts, probably Wall Street driven. Will have a psychological impact on consumer spending. Layoffs spreading to services industry, phase 2 of the downturn
(DiMartinoBooth)

Let's bundle the headlines:

LendingTree to Cut 13% of Workforce; Sees $5.6M Charge
Electronic Arts Cuts 6% of Its Workforce in Video-Game Slump
Warner Music Group to Cut Headcount by ~270, or ~4%
IBM Spinoff Kyndryl Cuts 'Small Percentage' of 90k Workforce

(DiMartinoBooth)

Gotta love verbiage from @business reporter in a story about @salesforce gearing up for another round of layoffs "After years of hiring & big acquisitions, the software company is newly focused on profitability" We're in a hot mess if firms have NOT been run to generate profits

(DiMartinoBooth)

Severance is expensive! @Accenture plans to cut about 19,000 jobs, ~2.5% of its workforce, over the next 18 months, according to a 10-Q filing. Sees $1.5 BILLION total business optimization costs, consisting of $1.2B in employee severance and other personnel costs.
Resources
OPINION - Charging EVs requires more power.. there more demand for natural gas as a bridge fuel
(BrianGitt)

Rapid electric vehicle growth could increase electricity use by up to 25%. "If most EVs continue to charge at night, then the state will need to build more generators, likely powered by natural gas, or invest in expensive energy storage."
Stanford study warns against charging electric cars at home overnight

The study has recommended that the practice should change, with more EV owners charging their cars during the day at work or at public charging stations.
COUNTERPOINT - This energy still has to be generated, even with optimal solar and wind production