Notes, thoughts and observations - Compiled weekly
This week we officially retire the Used Car Bubble, but keep and eye on our money bin.
TOPICS
---
Labor Market
Maintain austerity in good times to avoid layoffs in bad times. - Carlos Slim
HOT TAKE - Rolls around in Scrooge McDuck money Too bad they are all $1s 💸
(LizAnnSonders)

Wage and salary growth is reaccelerating … latest November update shows 6-month annualized pace picked up to +6.6%
OPINION - Demographics starting to sink in. Retention, retention, retention are the three keys toward suriviving as a business.
(Markzandi)

Businesses are loath to layoff workers, outside of tech. Initial unemployment insurance claims have rarely been lower. Businesses are looking past the economy's current problems, at least so far, knowing their #1 problem long into the future will be finding and retaining workers.
Recession seems unlikely if wage growth and inflation subside without lots of layoffs. Layoffs seems a necessary condition for a downturn. It's only when workers worry that they will lose their jobs that they panic, ramp up saving and slash spending, and the economy falters.
OPINION - We forget about the technology driven productivity gains of the 90s and 2000s. Could AI and other tools be the key to future growth?
(John Mauldin)

Economic Watch List - Worker Productivity

While COVID certainly aggravated the worker shortage, it is really about demographics.

Boomer generation is retiring faster than younger generations are entering the workforce and gaining productivity.

This is raising wages, particularly for service industry workers, with the happy effect of giving them more spending power.

The bad part is it reduces growth prospects unless the smaller number of workers gains productivity.
Remember, GDP is a function of the number of workers times worker productivity.
---
Real Estate
Location, location, location
OBSERVATION - Big shift for Wells, but larger trend as big banks get out of the mortgate business.
Wells Fargo pares back mortgage operations to focus on existing customers

As traditional banks continue to withdraw from the industry (JPMorgan anad BofA surrendered mortgage share after the financial crisis), non-bank entities like Rocket Mortgage and United Wholesale Mortgage have filled the void
Globalization
Globalization is a fact of life. But I believe we have underestimated its fragility. - Kofi Annan
OPINION - Cheap energy and trade agreements are at the core, see NAFTA2
(Over My Shoulder)

Relentless globalization was already slowing before the pandemic, which further accelerated reshoring and so-called "friendshoring."
OPINION - China's oil demand will bounce back big. Only a physically limited amount available from Russia, so eyes toward the Perisan Gulf?
(John Mauldin)

Economic Watch List - China

What happens in China is key to energy because it affects demand.
The 'good news' now is that the virus will likely run through the population quicker than anybody can imagine. This should mean economic recovery by the second quarter, if not earlier.
China re-opening could produce demand in the millions of barrels per day equivalent. This will boost energy consumption throughout Asia. This is something else to watch.
Used Car Bubble
Here in my car I feel safest of all - Gary Neuman
OPINION - Classic overcorrection as demand falls and prices don't correct fast enough. Would expect it to stablize.
(LizAnnSonders)

December's -14.9% year/year drop for used car prices per Manheim_US was worst ever in history of data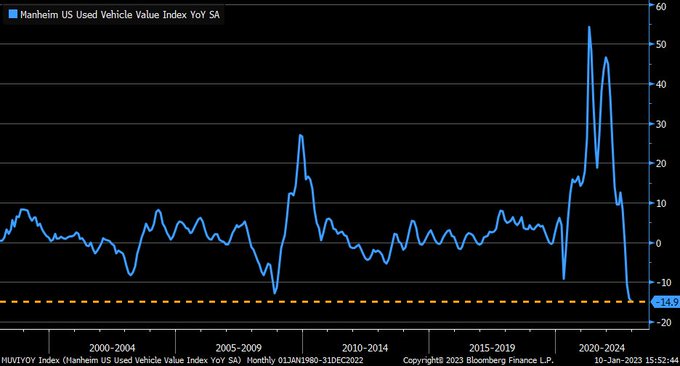 Environment
If you look at Earth from space you see a dot, that's here. That's home. That's us. It underscores the responsibility to deal more kindly and compassionately with one another and to preserve and cherish that pale blue dot, the only home we've ever known. - Carl Sagan
OPINION - Never let a good crisis go to waste. Some call it novel, I'd call it leverage. I do beleive that capital can be part of the environmental solution, not it's natural enemy.
Life Extending Technlogy
Dream as if you'll live forever. Live as if you'll die today. – James Dean
OBSERVATION - Massive advances in bio & pharma are on everyone's bingo card for the next decade. It's often overlooked because of flashier tech and finance companies.
(CathieDWood)

Last month, BBC reported that GOSH, a research hospital in the UK, base edited the genome of a 12-year-old girl, Alyssa, suffering from leukemia. She had failed dozens of therapies and had no more options. Seven months later, she is cancer- free. Not many investors know about it.
The bear market last year suffocated this news, even though it made a splash at ASH, the American Society of Hematology conference. While one cure does not a trend make, few analysts are discounting any possibility that gene editing might cure cancer.
In our view, US equity markets today are 180 degrees away from those in the tech and telecom bubble in the late nineties. Unlike the case then, the technologies are ready and the costs are low enough for prime time. Investors chased the dream then. Now, they are running away.