Notes, thoughts and observations - Compiled weekly
Slight format change, will add my commentary to each line item in addition to calling out any larger points.
TOPICS
---
Labor Market
Maintain austerity in good times to avoid layoffs in bad times. - Carlos Slim
OPINION - Layoffs should subside sometime in Q2
I expect the pace of layoffs to pick up across tech companies as the annual budget planning wraps up. Most tech companies are finalizing their 2023 spending plans in the coming weeks, if they haven't already done so. The C-level and the board will agree on spending and revenue targets.
The best time to execute a layoff is when you know it's unavoidable. For lots of companies, this "point of no return" comes when the 2023 plan doesn't work without cost reductions.
This is why I expect more layoff announcements this month and in February, as these planning cycles come to a close. On the upside, companies which don't announce layoffs after annual planning likely have a solid plan to execute without letting people go.
OPINION - Part of the larger demography discussion, much worse in countries that don't have large millenial cohorts to prop up demand and production
Where did all the workers go?
Indexing labor force participation to February 2020, it shows most age groups are now back to work at almost the same rate as pre-COVID

Exception is workers age 65+ who dropped out of the labor force very quickly when the pandemic struck
OPINION - Pretty damming for employers looking to retain talent!! (even worse for wage fueled inflation)
Two interesting charts from The Wall Street Journal on wage developments in the United States.
---
Energy
The Stone Age came to an end, not because we had a lack of stones, and the oil age will come to an end not because we have a lack of oil. - Sheikh Ahmed Zaki Yamani
OBSERVATION - Nuclear is quickly gaining popularity as nations struggle with supply and carbon emission targets
Or roughly what Germany has spent to make it through this winter
(CruxInvestor) :: China to build 150 new nuclear reactors worth $440bn in next 15 years. This is more than rest of world has built in past 35 years. Focuses on energy crisis prevention and decarbonization. Other countries should pay attention. #nuclear #energy #China #decarbonization
TAKEAWAY - Bullish on petro-energy sector
Oil will go back to $100—get ready

China's keen to get its hands on every last drop of oil it needs, and it's willing to create deals that guarantee that—even if it means doing so at the expense of everybody else.
The $50B deal it struck with Saudi Arabia and other suppliers will leave the West fighting over table scraps.
Buy big energy while you have the chance. The West is pricing oil like there's a recession coming. China is pricing oil because they know they need it to survive.
OPINION - This will not change in the near future, global demand could restart oil & gas exploration in the US
Huge! Qatar and US tied for world's top LNG exporter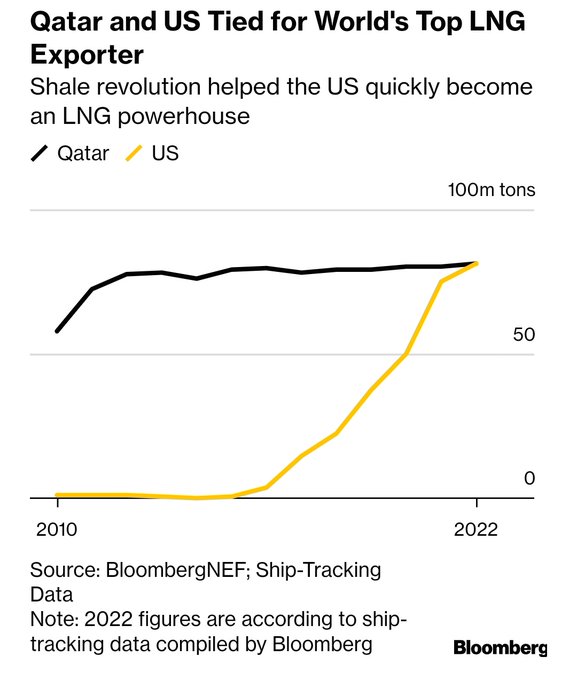 OBSERVATION - Green energy? Germany says "hold my beer"
German finance minister calls for lifting fracking ban
(Some sense here…though not much support for this from the rest of the govt)
TAKEAWAY - Probably masking the near term energy crisis, next year could be much much worse.
Crazy
(US_Stormwatch) - Europe is experiencing its worst heatwave ever recorded. The combined intensity and scale of this winter heatwave is unlike anything in European history.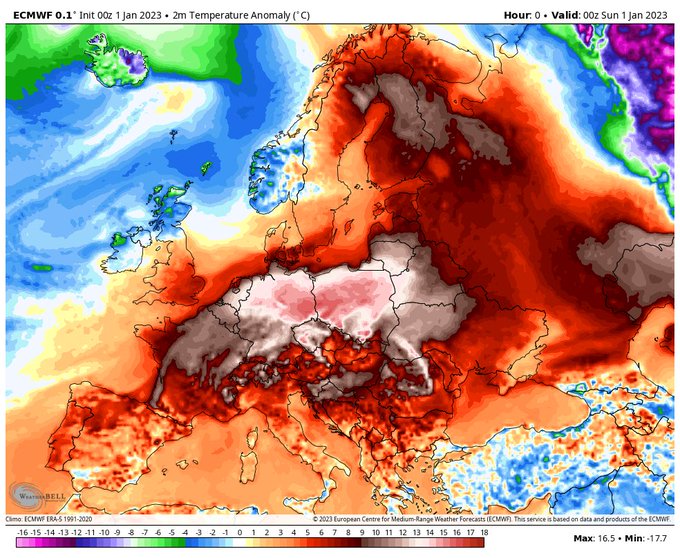 OPINION - Permanant, systemic changes to global production. Add demographic shift and it becomes a perfect storm
I get EU gas inventories are full and remain high, but, this is neglecting the larger problem: Industries have been forced to shut down since the fall of 2021 …countless smelters, chem manufacturers etc. have all shuttered production
Most of this production will likely never come back. Highly impacted industries include: The glass industry in France, the chemical industry in Germany (see BASF), aluminium, zinc etc
---
Recession
It's a recession when your neighbor loses his job; it's a depression when you lose yours. - Harry S Truman
OPINION - Not a very bold prediction, expect to see this ripple through Big Tech that massively overhired under qualified staff. Expect smaller tech to pick up the best and leave the rest. Labor shortage has abused smaller companies that can't pay top dollar or don't have the name recognition.
Update: As predicted. When sales slow, SaaS companies must cut expenses or their unit economics will deteriorate. In turn, Salesforce's vendors will need to cut. And so on. This cycle still has a ways to go.
Salesforce to Lay Off 10% of Staff and Cut Office Space

The software company plans to cut around 8,000 jobs as business slows for tech companies.
"We hired too many people leading into this economic downturn," Salesforce's chief executive said.
AGREE - Labor shortage (demography) won't spike unemployment and wage pressures will continue to drive inflation
Markzandi
The U.S. economy will struggle in 2023 with halting growth and higher unemployment. Recession is a serious threat. But the Moody's Analytics baseline forecast—the most-likely outlook—holds that the economy will avoid a downturn. Call it a #slowcession.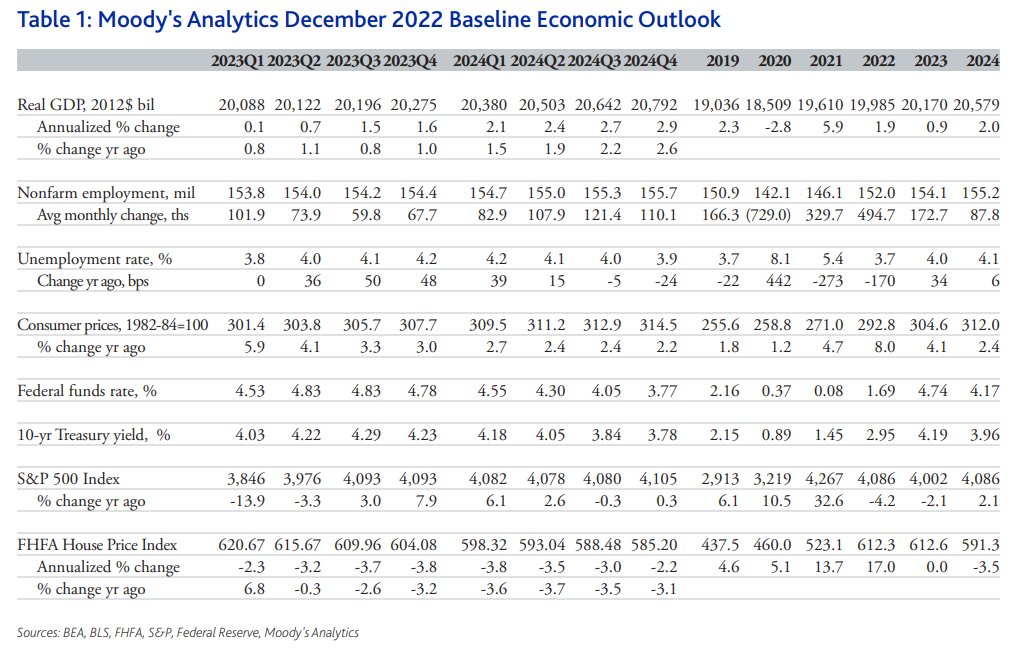 Here's a reason to think we can skirt recession next year
Ample excess savings. This is the extra saving we did during the pandemic and are now drawing down to supplement our inflation ravaged purchasing power and continue spending. All income groups have excess saving left.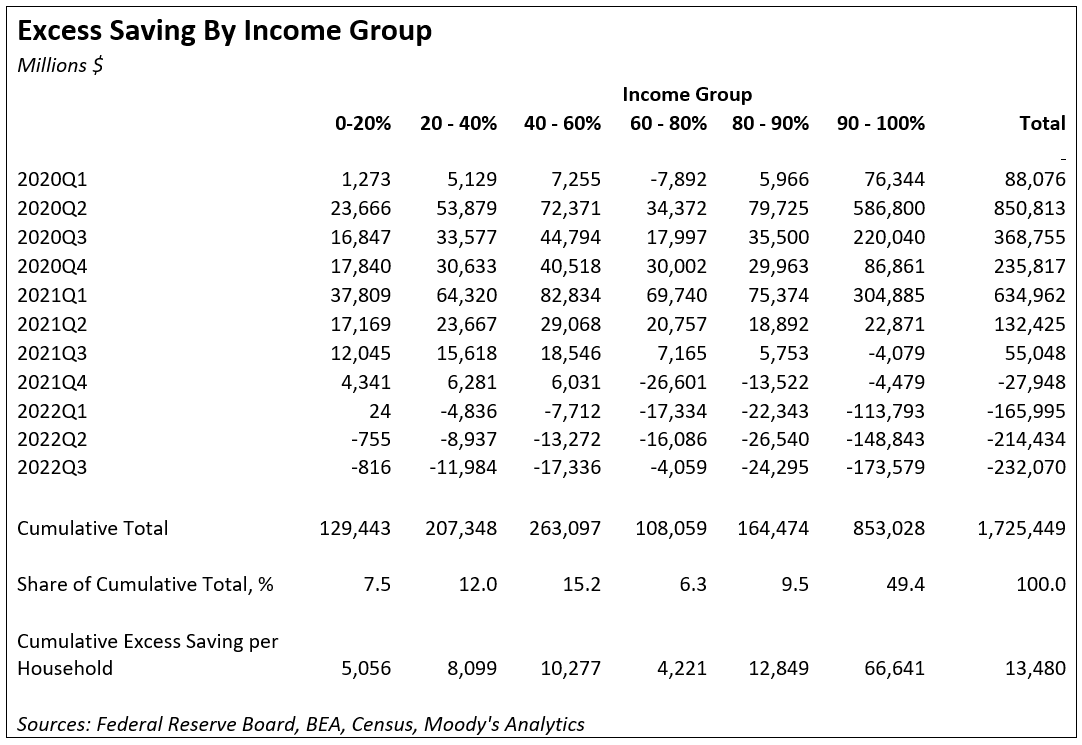 ---
Real Estate
Location, location, location
OPINION - Ripple effect from elevated mortgage rates, no relief in sight.
Bankrate forecasts that rates for 30-year fixed-rate mortgages will drop to 5.25% by the end of this year.

 1.49% lower than the current rate and nearly two percentage points below 2022's peak of 7.12%

Team Powell is on a mission to raise rates, and mortgage companies have got to charge higher rates to book the "spread" and make money.

There is no way in you-know-what that mortgage rates come down to 5.25% when the Fed Rate is projected to crest at 5.25% or higher.
Makes me think defaults rise, credit bureaus get creative, and housing continues to struggle.
Weird …
---
Electric Vehicles
Yes, my grandfather worked with Thomas Edison on the electric car, and he sold electric cars at the 1900 World's Fair in Paris. - Al Jardine
OPINION - Tesla is not fair market value and prediction of future EV need for raw materials is overstated.
10-30 years away from mass adoption
Using Tesla data (only focused on battery) with 100% green energy for assembly it takes a year to become a carbon savings

Many components are made in China using coal power

Have solution for lighter vehicles, but no solution for heavier more powerful vehicles

Semis, ships and aeroplanes which are 50% of carbon emissions

What does it take to make them, is it physically possible?

Requires much more sophisticated inputs (silicon, aluminum, copper, zinc)\

Requires a factor 10 increase in production
Historically we can double capacity in 10 years
Losing access to materials and processing (Russia & China)

Have been carbon bombs

Teslas are typically a 2nd or 3rd car
Tesla has problems
Elon is showing his erratic, trumpy right-wing ideas

Alienating his left-wing envornmentalists customers

Teslas is priced like a tech company, not a car company

Linear scaling of auto manufacturing

Massive capital crunch, what is available to keep the price up

Major decline over last year
Tesla fair value needs to start 90% where it started this year
---
New Technology
Once a new technology rolls over you, if you're not part of the steamroller, you're part of the road. - Stewart Brand, Writer
OPINION - Fully automated kiosks like this will accelerate due to demographic labor shortage and refinement of AI
Absolutely thrilled that CafeX made it through Covid & the chaos in the city, to build a world-class, fully robotic cafe… … took years, by the team did it!

(supergeek18) :: Over $700K from the two coffee robots that we run at SFO in 2022. Fully automated and unattended 24/7. The only proven system in the world. Adopt your own coffee robot baby today at http://getcafex.com