Notes, thoughts and observations - Compiled weekly
This week we saw continued concern about the resiliency of consumer spend and the impact of growing debt on households. Credit card debt hit a record $1.08T and the largest increase since the NY Fed began tracking in 1999. Likewise household ability to cover a $400 emergency expense continues to decline.
Labor and recession talk still circulates but opinions are mixed on the implications. On the one hand "quits" are down to pre-COVID levels but we're seeing a weird trend line in jobs due to shifting demographics. October numbers would have been 262,000 if the birth/death wasn't negative. Likewise, where some see strength in the economy others are reporting slowdowns that will cause a future recession.
I guess it depends on whether you think we are in a recession, just came out of a recession, or are headed for the next recession. We are seeing layoffs and manufacturing is on the cusp of contraction. It may not be clear the casual observer as companies like Citigroup are disguising layoffs as special projects and others like BoFA have instituted hiring freezes to control labor costs.
Not all gloom and doom as several companies have announced that they will build their own proprietary large language models. Amazon announced Olympus and Titan despite also partnering with Anthropic. It's clear that major companies are placing LOTS of bets with AI to leapfrog competition.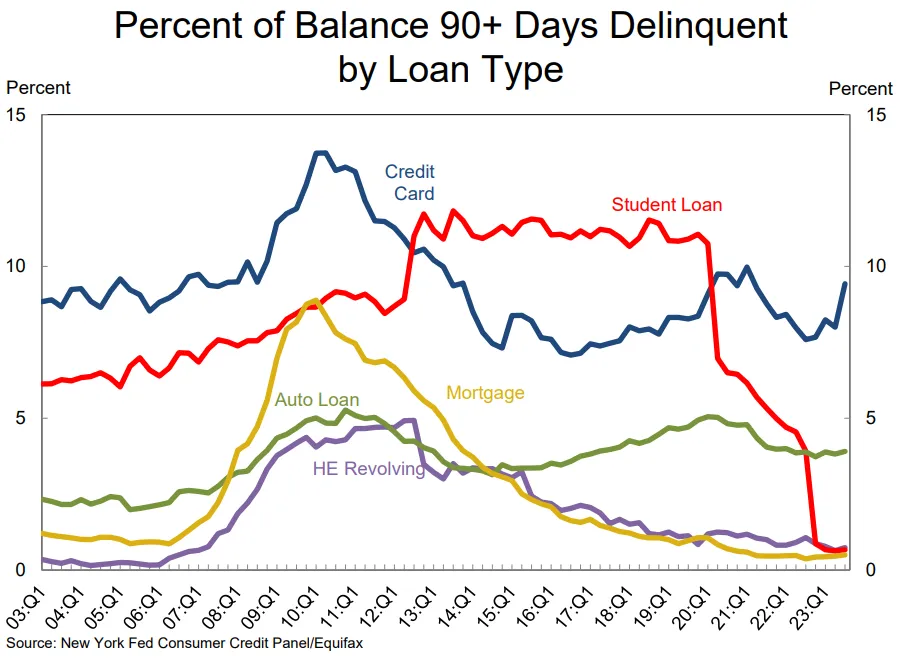 TOPICS
Labor Market
OBSERVATION - Quits is down, but trend was rising pre-COVID and will likely resume as demographics impact labor pool
(Mauldin Econ)

The "Great Resignation," may have run its course.
The Labor Department quits chart shows workers quitting their jobs each month is now back down to the pre-COVID level
In the prior decade: The quits rate rose steadily from 2010 until early 2020 as Baby Boomers began turning 65, leaving a void as not enough younger workers were available
OPINION - Jobs numbers are bad but obscured by demographic shifts
(Mauldin Econ)

October headline jobs growth of 150,000 would have been a 262,000 loss if the business birth/death model hadn't added 412,000 jobs.
Moderating wage growth and hours worked are also troubling. Year-over-year weekly earnings growth dropped to 3.2%.
The 3.9% unemployment rate is now 0.5 percentage points above the 3.4% low last April.
Bottom Line: The working age population is shrinking relative to retirees and children and we don't fully understand how this will affect the business cycle.
Consumer Debt
OBSERVATION - Upper limit for consumer debt, but at what level?
(Daily Sandbox)

The percentage of loans in serious delinquency, 90+ days, is virtually flat across all categories save credit cards

Remain well below the pre-pandemic highs and miles away from the levels seen during the Global Financial Crisis.
OBSERVATION - Overextended consumer
(Seeking Alpha)

Americans' credit card debt swelled to a record $1.08T in Q3, up $154B from Q3 2022

Marks the largest increase since the NY Fed began tracking household debt in 1999
Particularly pronounced among millennials and those with auto loans or student loans

Credit card balances are increasing faster than any other type of debt
OPINION - Slight decline, nothing to fret about.
(Sandbox Daily)

The share of U.S. adults who said they could cover a $400 emergency expense with cash has dropped for the 3rd quarter in a row to 44%.
Meanwhile, 18% of households outright cannot afford it.
Recession
OPINION - Disagree on the strength of manufacturing, we are seeing weakness in the data
(Sandbox Daily)

The probability of a U.S. recession is limited
Several factors contribute toward this view: strong real household income growth (see chart below), a smaller drag from monetary and fiscal tightening, and a recovery in manufacturing activity.
Profitability
OPINION - Bizarre move to guise layoffs with a project name
(CNBC)

Citigroup considers deep job cuts for CEO Jane Fraser's overhaul, called 'Project Bora Bora'
Managers and consultants have discussed job cuts of at least 10% in several major businesses
Executives will see cuts beyond 10% because of Fraser's push to eliminate regional managers, co-heads and others with overlapping responsibilities
OBSERVATION - Still hard for traditional media to transition to digital subscribers
(CNBC)

Washington Post appoints William Lewis as CEO; to reduce headcount by 10%
projected to end the year taking a $100 million loss
the Post's prior projections for website traffic, subscriptions and advertising growth for the past two years and into 2024 were "overly optimistic.
AI and ML
OPINION - Companies that can build their own models will
(Pragmatic Engineer)

Amazon building its own LLM model
A tech company has three options for using these:

Run an open-source LLM model on its own hardware
Invoke an API from an LLM provider, such as OpenAI's
Use an LLM via its cloud provider, such as use ChatGPT via Azure

As LLMs become more commoditized, the third use case will spread widely.

Cloud providers will partner with LLM vendors like Anthropic, the most profitable option is for companies to offer their own.

AWS has had a model called "Titan," which performed poorly compared to ChatGPT
OPINION - Early days of LLMs
(Seeking Alpha)

Amazon (NASDAQ:AMZN) is investing millions in training a large language model in an attempt to compete with top AI models

Dubbed Olympus, has two trillion parameters
Team is led by Rohit Prasad, former head of Alexa, who now reports to Amazon's CEO Andy Jassy

Amazon has already trained smaller models such as Titan and in September

Said it would invest up to $4B in San Francisco-based AI startup Anthropic

Generative AI services have taken the world by storm