Notes, thoughts and observations - Compiled weekly
Asia is in real trouble.  The YTD basis has the highest zombie prominence of any market which indicates a lot of potential business failures in the future. Meanwhile 67 % of all Chinese bonds are in default which could trigger another Asian debt crisis if the government does not intervene. 
Everything is political, including designating a recession.  Personally, I think we already had a mild recession and numbers will be retroactively revised. The numbers look different this time because of the unprecedented distortion caused by COVID era fiscal policies. 
While the US corporate sector may not be in as bad a shape as Asia, our national budget situation is dire and on the verge of being out of control. This year the budget deficit was approximately the size of total income tax collected which is probably unsustainable. If the fight over house speaker is any indication, this is a very serious situation. 
We wrap with an interesting chart about streaming in the US which seems to have hit a plateau. Companies are looking abroad for growth but it's more likely that the rate of cord-cutting, and multiple streaming platforms will cool. At this phase I would expect more growth through consolidation of services.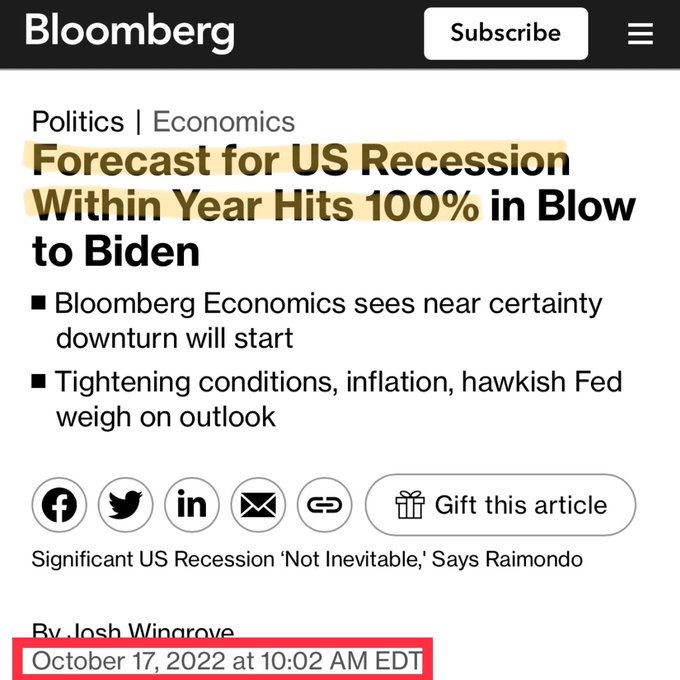 TOPICS
Bankruptcy
OBSERVATION - Dead men walking, Asia in real trouble
(LizAnnSonders)

On YTD basis, Indonesia has highest zombie prominence within its market, followed by Philippines … Russia has smallest zombie share @DataArbor @Bloomberg
OPINION - Not surprising given other freight carrier woes, hard environment for a startup
(CNBC)

Digital freight broker Convoy announced Thursday that it's shutting down operations.

Convoy raised $260 million at a $3.8 billion valuation just 18 months ago.
Announcement comes just one week after supply chain software startup Flexport said it will lay off about 20% of its own workforce.

Convoy told employees Thursday that it's shutting down operations due to a "massive freight recession."
National Debt
OPINION - On the verge of out of control
(profstonge)

Turns out this year's federal deficit is a lot bigger than they claimed, and growing twice as fast.
Thanks to a cute accounting gimmick that counted student loan cancellation as revenue.
That means our deficit is already $2 trillion – up 40% on a year ago. And it means Congress promising $144 trillion in debt by 2053 could actually be low-balling.
OPINION - Rapidly need to get our house in order
(KobeissiLetter)

In fiscal year 2023, the US ran a deficit of $1.7 trillion.
To put this in perspective, the annual US deficit is roughly equal to total individual income tax collected.
It also means that the 2023 deficit is nearly 5 TIMES as large as corporate income taxes.
The 2023 deficit as reported is ~25% larger than total Social Security outlays.
Net interest was $659 billion and should soon pass the national defense budget.
Recession
OPINION - If you didn't think the "recession" designation was political, here's your reality check.
(JosephPolitano)

In the year since this article was published, the US economy has grown by 2.9% and the country has added nearly 3.2M jobs
OBSERVATION - Maybe we experienced a "soft landing" and didn't realize it?
(JustinWolfers)

Time to update this chart. Not a recession in sight, and the only numbers not pointing north are the (somewhat dated) Q2 GDP/GDI data, and Q3 is shaping up to be a monstrously positive number.
OPINION - Will revise back and show we are currently in a recession
(charliebilello)

Leading Economic Index declined for the 18th month in a row, the longest down streak since 2007-08. Conference Board is now forecasting a "shallow recession in the 1st half of 2024," pushed back again from prior calls for a recession to start in Q4, Q3, Q2, and Q1 of this year.
OBSERVATION - 67 % of ALL Chinese bonds are in default!!
(junogsp7)

China's 🇨🇳 realty index is down an astounding 80 % since 2009 as a false store of value
President Xi paid a historic first visit to the Chinese central bank in consult to solve the crisis
This combined with my previous post that 67 % of ALL Chinese bonds are in default, signals an absolute three alarm 🚨🚨🚨 financial crisis
Given China's critical role to the interconnected world 🌎 economy, recession and potential depression is lurking beneath the surface of 🇨🇳 dragon. 🐉
Digital Media
OBSERVATION - Cord cutting and streaming is hitting a plateau
(Daily Sandbox)

Is the U.S. streaming business maturing?

interesting to note how stable the streaming share of television time in the United States has become
Much of these companies are looking to international markets for their next lever to pull