Notes, thoughts and observations - Compiled weekly
Everyone on Wall Street and in finance is worried about the fed rate and when cuts will begin. This largely ignores the real impact that high interest rates (i.e., borrowing cost) have on everyday people.  
On one hand the cost for consumers to borrow and maintain their lifestyle amid rising prices is in serious jeopardy. The credit crunch is ongoing and should be a concern to everyone. It has largely propped up buying, as have government transfer payments. Those payments are coming to an end and student loans are coming due. 
The flip side of higher interest rates is the inevitable downward pressure on home prices. It's a matter of affordability for buyers and we are finally starting to see it. Commercial real estate is in a far worse situation, and I think the prediction of a bottom in mid 2024 is optimistic. It less about a bottom in commercial real estate and more about a long term underperformance.  
Not surprisingly, the deterioration in household finances is fueling a rise in credit delinquency, particularly in automotive. As if that weren't enough the big three US auto manufacturers are experiencing worker strikes and more alarming a decline in market cap. Most shocking both Ford and GM have less global market cap than Ferrari which produces a fraction of the number of vehicles.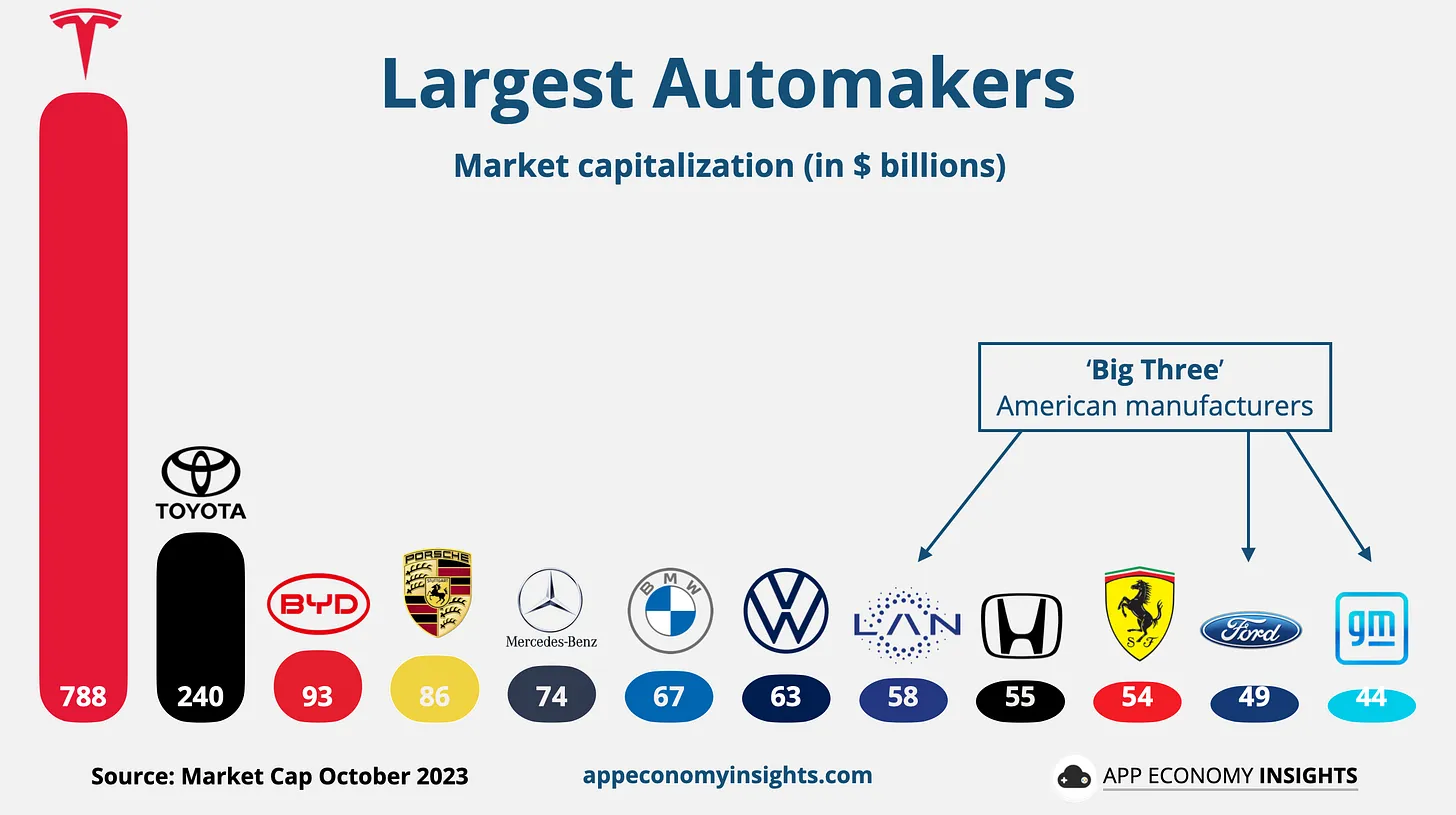 But notice something else, tucked in between Tesla and BYD is Toyota. Not only does Toyota have the reputation for building reliable internal combustion cars that are a great value, but Toyota has also sold vehicles in the hybrid space for years. The Prius is the bestselling hybrid car of all time first for sale outside of Japan 23 years ago. We should take notice when Toyota recently announced a long-term battery partnership with LG Energy Solution. 
The last point for the week is a great example of how correlation does not imply causation. The spreadsheet did not in fact destroy the bookkeepers job, and it is not an analog of the AI revolution. I know that a lot of finance is done via spreadsheets, but no sizeable business is using Excel to track accounting auditing. There are purpose built systems for that and they are expensive for companies and lucrative for SaaS providers.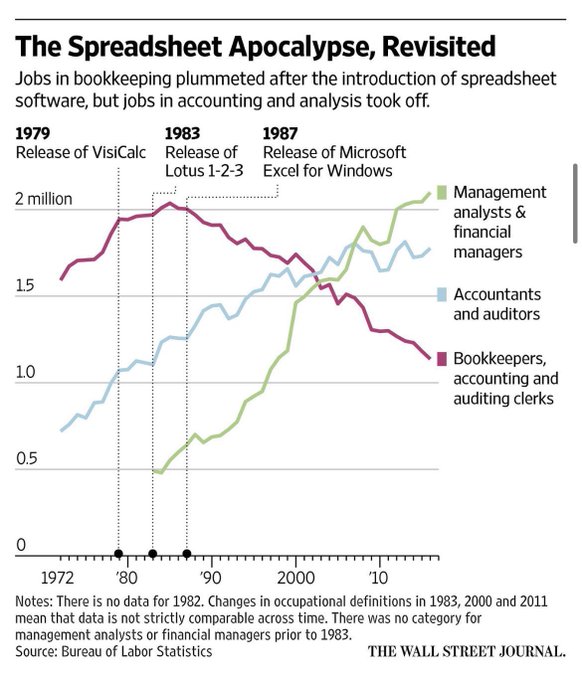 TOPICS
Consumer Debt
OPINION - Transfer payments, much like credit, are propping up consumer spending.
(LizAnnSonders)

Government transfer payments made up 17.3% of personal income in August … lowest share in post-pandemic era
OPINION - Expiration of COVID era government subsidies will be the next event(s) to move the economic needle
(Seeking Alpha)

Millions of Americans will start making payments again on their federal student loans, after a pandemic-era pause for over three years ended on Sunday
More than 40M people together owe over $1.6T in federal student loan debt.
The resumption could lower consumer spending by $9B per month
"To our knowledge, there has never been a circumstance in which an entire lending market was turned off and turned back on again," said Jefferies analyst John Hecht.
Real Estate
OBSERVATION - Predicting the worst ahead
(danjmcnamara)

US Office Market Is Poised for a Crash, Investors Say in Survey
OPINION - Valid points, as the author points out "There MAY be a reason all the twitter real estate bros do many other ventures and sell courses…"
(noahkagan)

I will lose $55,000 this year on Real Estate.
So what does that mean for everyone?

Real estate CAN be very profitable for people with fixed income jobs
Entrepreneurship has WAY better upside AND lower costs
Anyone can do real estate. Think about things you have a COMPETITIVE advantage in.
Don't believe the numbers and ease of people claiming get rich quick. What's in it for them?
Opportunity cost. If you're going to spend 40 hours finding a rental property and dealing with it - what other investments or businesses could you start instead?
Automotive
OPINION - Largely more #2 than #1
(Sandbox Daily

Auto loan delinquency rates hook higher
The subprime delinquency rate reached 4.1% in August 2023, which now stands moderately above the pre-pandemic trend and at roughly the high-water mark set in late 2008.
The subprime auto delinquency rate can rise for two different reasons:

It can rise for compositional reasons if loans originated become riskier, either because existing lenders loosen their standards or because new lenders that tend to make riskier loans enter the market.
It can also rise if negative income shocks and the deterioration of household balance sheets reduce a borrower's ability to pay.
OBSERVATION - A stark reminder of where the "big three" auto makers rank by market cap.
Fed Rate
QUOTE - "..bond market beatings will continue until morale improves."
(Chartstorm)

The 2020-23 drawdown in treasuries is now worse than the drawdown in stocks during the 2008 financial crisis.
Lower demand from China/Fed have contributed to the bond bear.
Bond bear markets usually only end when a crisis occurs (bond bulls need to believe a crisis/recession and/or Fed pivot is on the way).
..elementary bond/finance math means if bond yields go up, bond price goes down (so moves higher in bond yields = bearish for bond prices
Bond bear markets are logically usually driven by Fed hiking (because cash rates directly and indirectly drive bond prices).

for the bond pain to end, the Fed needs to pause/pivot on rate hikes
you need to expect some combination of crisis, recession, fed pivot to QE/rate cuts.
EV Battery
OBSERVATION - LG Energy Solution (KRX: 373220) emerging as early leader in battery
(Toyota)

LG Energy Solution and Toyota Sign Long-term Battery Supply Agreement to Power Electric Vehicles in the U.S.

Two global leaders join forces to drive the future growth of battery electric vehicles in the U.S.
LG Energy Solution to supply Toyota with 20GWh of high-nickel NCMA battery modules annually from 2025.
Modules produced in LG Energy Solution's Michigan facility to be used to power a new BEV model assembled in North America, at Toyota Motor Manufacturing Kentucky, among others.
AI
OBSERVATION - Not really the same level of jobs, but point made.