Notes, thoughts and observations - Compiled weekly
On top of mind this week is the real risk posed by commercial real estate. While single-family delinquencies declined, multi-family increased. Single-family inventory is at the lowest level on record (going back to 2012) based on Redfin. On the commercial side some estimates have only top ~10% of office buildings in NYC are not distressed.
The labor market continues to be strong, and workers confident despite manufacturing layoffs picking up. The wave of tech layoffs has slowed but higher than last year. On the flip side, the US has 2.4 million excess retirees and it's likely causing labor shortages. No shortage of Hel Wanted signs around my town.
Finally, the stock market continues to prove bears wrong, but something isn't right. Top winners in the S&P 500 are the largest, most institutionally owned names. Only 27% of companies in the index are beating the benchmark. Meanwhile BRICS countries have a growing share of the world economy but they're not going to rival the G7 anytime soon.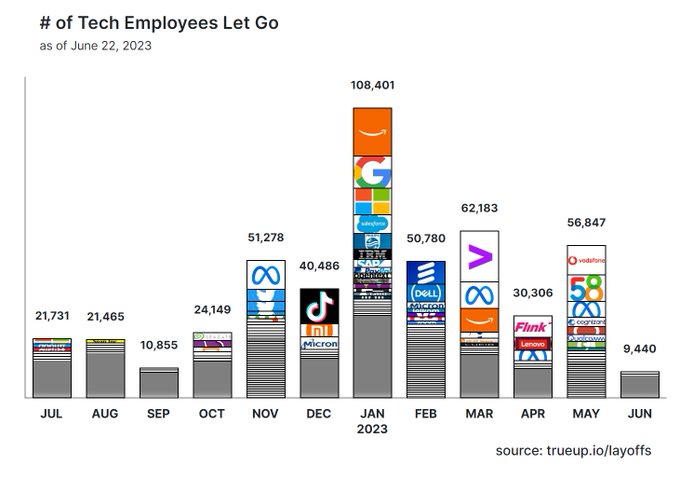 TOPICS
Real Estate
OPINION - This is one of the stresses that will trigger the next downturn
(Kyla Scanlon)

The Impending Commercial Real Estate Crash

Distress is spreading in the US commercial real estate industry, with the amount of troubled assets climbing to nearly $64 billion in the first quarter of this year.
Apartment building prices have declined 21%, and malls are off 18%. Office prices are expected to fall more than 25% in Europe and almost 13% in the Asia-Pacific region before hitting a trough
Investment is walking away from loans

SF: Veritas Investments Inc., a major local landlord, defaulted on $675 million in debt on a portfolio of apartments valued at more than $1 billion in 2020.
Blackstone, Brookfield and Pimco simply aren't paying

It took six years for US office prices to recover after the 2008 financial crisis, even though that episode was centered on residential real estate. "This time we think it'll take 10 years
OPINION - Resilient consumers in good standing; commercial real estate on the ropes.
(Calculated Risk)

Single-family serious delinquencies continued to decline in May, however, multi-family serious delinquencies are now increasing.

Single-Family serious delinquency rate in May was 0.58%, down from 0.61% April.

Multi-Family Delinquencies Increased

Multi-family delinquencies increased to 0.20% in May, up from 0.07% in May 2022.

(kylascan)

Wild stats on commercial real estate

Blackstone said US offices now < 2% of portfolio, from > 60% in 2007
Only top ~10% of office buildings in NYC are not distressed
NYC building recently sold for ~30% less than 2006 sale price
~$900bn in US cre debt coming due

Not being a cre doomer but wow what a shift that no one seems prepared for
OPINION - No one wants to move, want to keep low mortgage rates
(LizAnnSonders)

Data from @Redfin show number of homes for sale in U.S. fell by 7.1% y/y to 1.4 million (seasonally adjusted) as of May … lowest level on record (going back to 2012) and first annual decline since April 2022
Labor Market
OPINION - Worker confidence will buoy consumer stability
(Sandbox Daily)

Americans feel secure about their jobs

Fed's monthly survey of households shows that consumers are not worried about losing their jobs
OBSERVATION - Manufacturing pull back
(DiMartinoBooth)

"Ford Motor is preparing to initiate another round of layoffs in the coming weeks, according to people familiar with the matter, the latest in a broader effort by the automaker to streamline operations and reduce costs."
OBSERVATION - Similar to early 2000s, tech leading layoffs
(BobEUnlimited)

Tech layoffs have driven nearly 2/3 of the layoffs so far this year so they are worth watching closely.
After an uptick in May, looks like June will close as a pretty slow month unless something big comes in the next week.
OPINION - Haven't seen the worst of the unemployment number yet
(MishGEA)

An Interesting Divergence Between Initial and Continued Unemployment Claims
Initial unemployment claims keep rising and are the highest since November 13, 2021. Continued claims are another story.
The 4-week moving average was 255,750, an increase of 8,500 from the previous week's revised average. This is the highest level for this average since November 13, 2021 when it was 260,000. The previous week's average was revised up by 500 from 246,750 to 247,250.
Population
OBSERVATION - Feeling the worker shortage, will continue for a long time.
(Clips That Matter)

The US has 2.4 million excess retirees.

US labor shortage has several causes

Some of which are demographic trends
Model intended to predict "normal" retirements vs. compared this to actual retirements
The chart shows actual retirements moved well above the predicted pace starting in 2020 and are still doing so
Stock Market
OPINION - Timing the market is hard, getting off the sidelines is harder
(Sandbox Daily)

The strongest bear market in history?

This is one of the most unloved bull markets I can recall
If this is still a bear market rally, it will end up being the longest bear market rally in history by measurement of time.
And it will also be the most substantial bear market rally in percentage terms.

A frustrating market for many

Majority of constituents within the S&P 500 index are trailing the year-to-date index return.
Just 27% of the companies in the index are doing better than the benchmark's nearly 13% gain this year
Globalization
OPINION - BRICS bluster is overblown, particularly if China's population collapses
(Clips That Matter)

G7 vs. BRICS

Chart compares their GDP growth since 1992 with a forecast to 2028

On the surface, it appears the G7 is losing ground to the BRICS, but it's not quite so simple
The BRICS countries have a growing share of the world economy but they're not going to rival the G7 anytime soon.