Notes, thoughts and observations - Compiled weekly
Weird… big data analytics company Palantir dumps $50 million gold investment and buys $1.62 billion treasuries. What do they know? Gold is typically a hedge against inflation. Treasuries, on the hand, move inverse to interest rates. Is this a prediction of interest rate cuts?
Meanwhile stress on regional banks continues but I'm more confident that it won't spill into outright contagion. That said I expect more bankruptcies among weaker companies.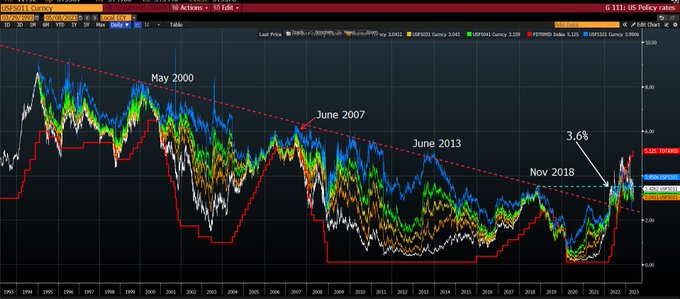 TOPICS
Recession
OBSERVATION - That's a big bet in a short period of time. 👀
(CNBC)

Palantir dumps $50 million gold investment less than two years after buying precious metal
Sells $51.1 million in #gold and buys $1.62 billion #treasuries

Palantir closed the period with $1.62 billion in U.S. Treasury securities, accounting for more than half of its cash, equivalents and short-term investments.
Gold as an alternative to cash loses its appeal for many investors in an environment of rising interest rates, because there's suddenly money to be made in government bonds and high-yield savings products.
OPINION - Long term buying opportunity
(TKer)

Despite recent banking tumult, we continue to get evidence that we could see a bullish "Goldilocks" soft landing scenario where inflation cools to manageable levels without the economy having to sink into recession.
All of this means the market beatings may continue for the time being, and the risk the economy sinks into a recession will be relatively elevated.
At this point, any downturn is unlikely to turn into economic calamity given that the financial health of consumers and businesses remains very strong.
Financial
OBSERVATION - Not a good look for regional banks..yikes
(LizAnnSonders)

Today's update for Fed's Senior Loan Officer Opinion Survey (SLOOS) shows net % of respondents reporting stronger demand for commercial & industrial loans fell to -55.6% for large firms (blue); -55.3% for small firms (orange)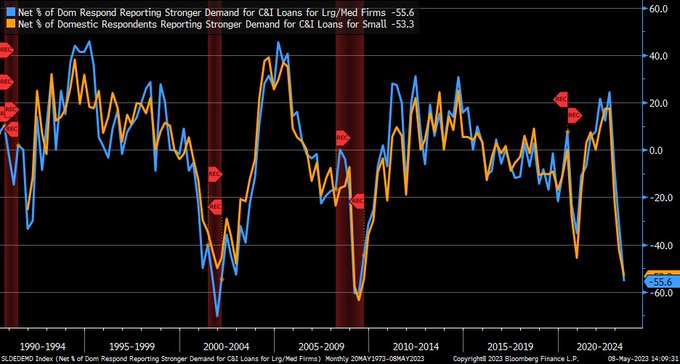 OBSERVATION - More stress on the fiancial system
(DiMartinoBooth)

"Preferred shares, a key way banks can meet capital requirements without diluting shareholders, are crashing. Ordinary shares meantime are threatening to drop below their pre-2008 crisis highs — a level that is ringing alarm bells for some."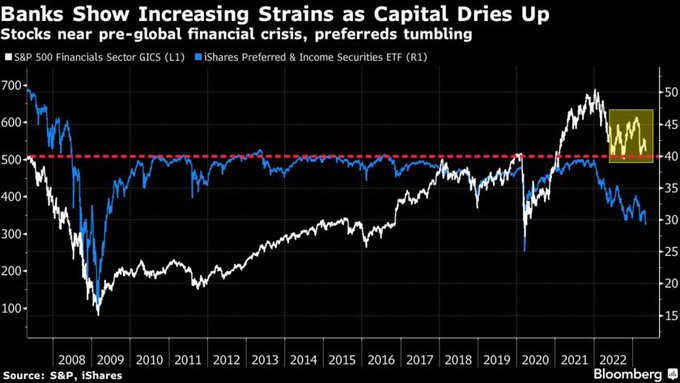 Fed Rate
OBSERVATION - Defiance! 🤯
(profplum99)

This remains one of the craziest chart pictures in my career… at every maturity the market is saying "no way" to the Fed… closest analog is an "inverse" 1995-6 when Greenspan Fed kept rates lower while market thought inflation a risk and politicians pushed for lower rates with "War on Inflation" won.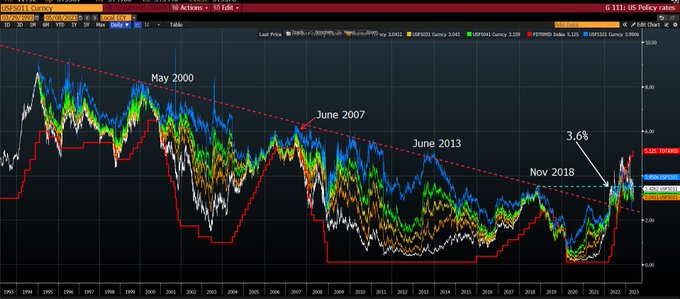 OPINION - Likely the end for now, the Fed has enough ammo to ease during the next crisis.
(TKer)

🛑 Fed signals the end of rate hikes.
On Wednesday, the Federal Reserve tightened monetary policy further by announcing a 25-basis-point rate hike, bringing the central bank's target range for its policy rate to 5.0% to 5.25%.
This was the 10th straight rate hike announcement, and it brought the range to its highest level since September 2007.
With the announcement, the Fed changed the language of its monetary policy statement in a way that suggested this could be the last rate hike for now.