Once-dominant Big Three are now facing fierce competition
A stark reminder of where the "big three" auto makers rank by market cap. If the future of automotive is electric, Tesla obviously has an early advantage. Toyota takes a slightly different track with hybrids. Maybe you've never heard of BYD, but the Chinese manufacturer has already seen success with exporting vehicles.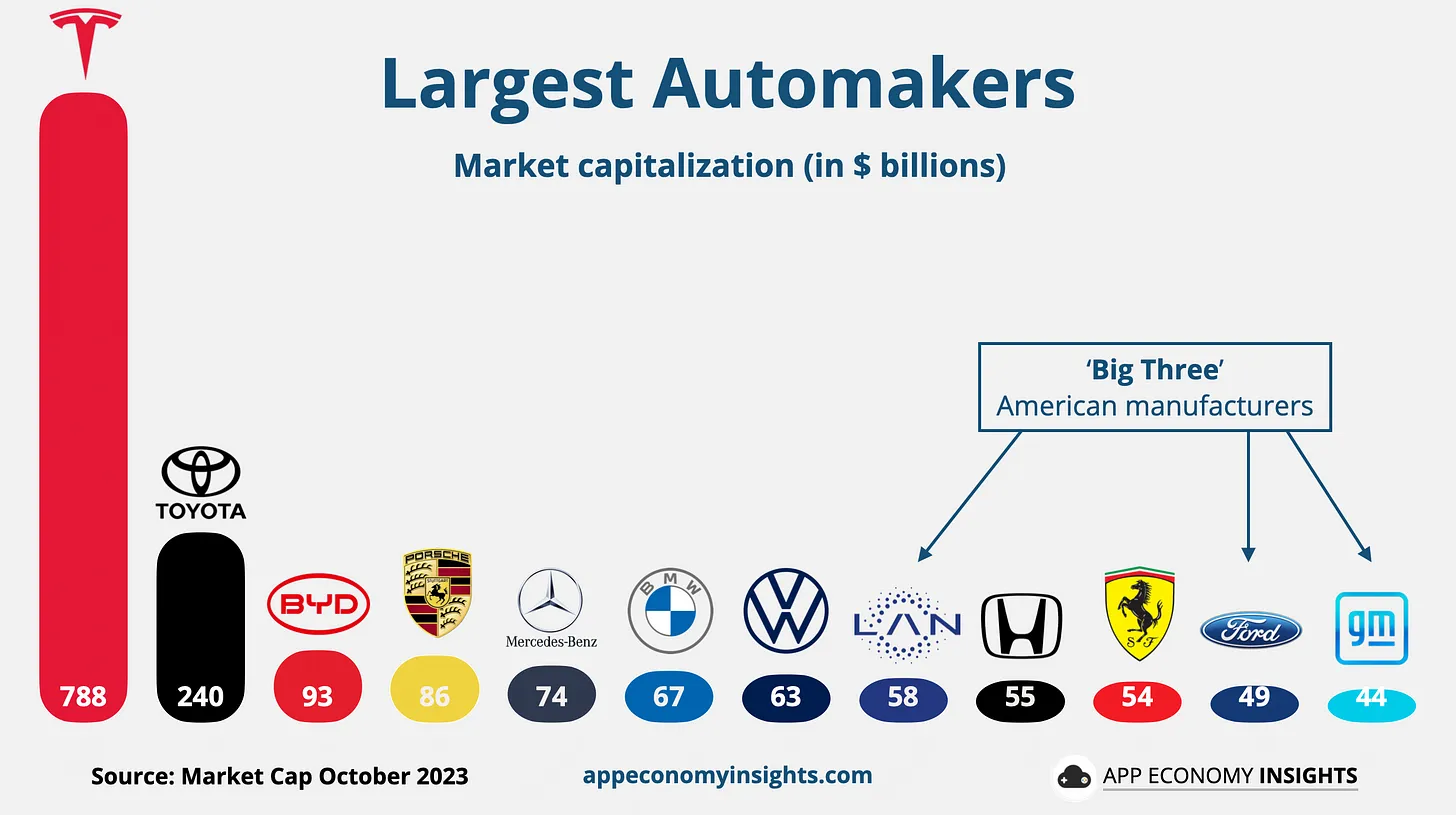 The Challengers 
"BYD is the second biggest seller of electric cars in Australia – behind Tesla – after just two months on sale locally" 
Economists estimate demand in China is only about 50% of production capacity meaning that BYD's long term success depends on exporting vehicles. I strongly doubt this will challenge EV sales in the US, but I predict the vehicles will be enormously popular in APAC (Asia–Pacific).  
Toyota is an oft overlooked and certainly in the mix. In fact, Toyota just signed a long-term battery supply agreement with LG Energy Solution for a 20GWh of high-nickel NCMA battery.  
The battery will power a BEV (battery electric vehicle) model assembled in North America at Toyota Motor Manufacturing Kentucky. 
Takeaway 
Keep in mind that market capitalization is driven by stock price, stock price by outstanding shares. So, the chart above is an indicator of long term future value rather than current state. Said another way: in the short term the market is a voting machine, in the long term a weighing machine. Investors are speculating that long term Tesla, Toyota, and BYD are more valuable than Ford, GM and Stellantis.
---
To get more of this content directly in your inbox, consider subscribing to my newsletter. Thanks!