Notes, thoughts and observations - Compiled weekly
THIS WEEK
Inflation
Inflation feels good at first but the endgame is grim - Jens O. Parsson
Observation :: Theories abound, but no one really knows what is going on
THOUGHTS :: Commodities ran up with speculation, corn prices are through the roof because of Ukraine. End of the day this fuels inflation, but didn't start it.
Cramer :: Commodity collapse: falling prices on corn, soy, copper, lumber. Morgan Stanley says much more to come zinc, aluminum, nickel, iron, copper, coal.
THOUGHTS :: 70s much? Old timers warn us about the bad old days. Bottom line is inflation was low for a long time and we need to readjust to a more realistic level
New Items :: Leading economies are close to "tipping" into a high-inflation world where rapid price rises are normal, dominate daily life and are difficult to quell, the Bank for International Settlements warned on Sunday.
THOUGHTS :: No two ways, this is bad. Supply chain can and probably will extend inflation long after the economy corrects
Clips That Matter :: Shipping Time

Port snarls in 2021 helped launch the current inflation.
The crunch eased considerably last fall and winter, falling from over 12 days to only three days as 2022 arrived.
Unfortunately, that improvement now looks temporary. Delays escalated again starting in February 2022 and are now near last year's peak level.
As every investor knows, time is money. Higher prices are one result, so this is a sign inflation may not recede soon.
THOUGHTS :: Ritholtz nailed it, not one cause but many compounding
Barry Ritholtz :: Who Is to Blame for Inflation?

Covid-19
Congress
President Biden CARES Act 3
President Trump CARES Acts 1+2
Consumers (overspent without regard to cost)
Consumers (shift to Goods)
Russian Invasion of Ukraine
Just in Time Delivery (supply chains)
Fed/Monetary Policy
Wages/Unemployment Insurance
Home Shortages
Semiconductors/Automobiles
Corporate Profit Seeking
Tax Cuts (2017) / Infrastructure (2022)
Crypto
Take-away :: Many things "caused" inflation, and we should adjust our outlook to rising prices for the foreseeable future
---
US Recession
It's a recession when your neighbor loses his job; it's a depression when you lose yours. - Harry S Truman
OPINION :: We can play games and pretend like it's not happening, but that won't change the fact that it's happening
OBSERVATION :: This seems different.. typically capitulation AFTER the decline, are we there yet?
Liz Ann Sonders :: Historically-elevated percentage of companies trading below cash and short-term investments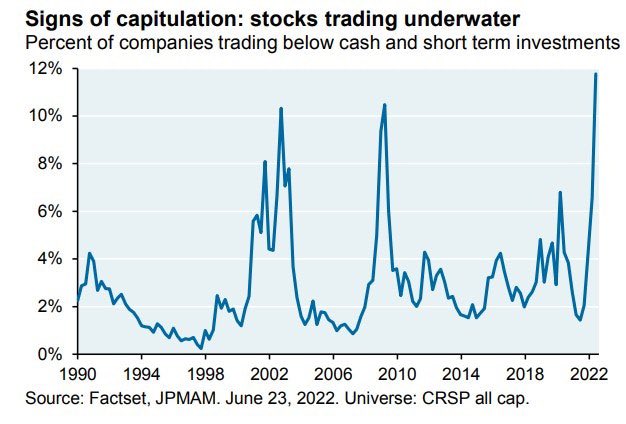 THOUGHTS :: Layoffs spread, seems like the start of a recession
Seeking Alpha:: Unity Software cuts hundreds of staffers

Unity Software (NYSE:U) has laid off hundreds of staffers in broad-ranging cuts, according to media reports.
An all-hands meeting two weeks ago brought assurances from CEO John Riccitiello that the company wasn't in financial trouble and no layoffs were imminent - but the cuts have hit
Laid-off workers are being given a month of pay and another month of severance and health coverage, but Unity has reportedly enacted a hiring freeze across all departments.
THOUGHT :: Cathie Wood capitulates?
Seeking Alpha :: Cathie Wood, CEO of ARK Invest "We think we are in a recession…"

Can't believe it's taking more than two years [to resolve the supply chain] and Russia's invasion of Ukraine of course we couldn't have seen that. We think a big problem out there is inventories - the increase of which I've never seen this large in my career… and I've been around for 45 years.
THOUGHT :: Predicting it could get worse based on past performance, are we overcorrecting based on the brutality of early 2000 and 2008?
Yahoo :: The S&P 500 Index may have another 24% to fall by year-end, if the past 150 years of financial-market history are any guide.

Société Générale, which calculates the benchmark gauge may need to tumble as much as 40% from its January peak in the next six months to hit bottom.
Earnings are the most important driver of stock prices in the long run.
Analysts estimated S&P 500 earnings to grow 10.4% year-over-year to $230.52 per share in 2022
"The dynamics of post-crisis fair value still call for a deeper correction to bring current prices in line with the reset anchor fundamental fair value."
"The current market valuation clearly stands as a bubble vis a vis the valuation reset of March 2020 and its trajectory,
Takeaway :: Stocks might get cheaper, but not a sure bet. At this point many trading at 52-week lows, hard to make strategic buys
---
Real Estate
Location, location, location
Observation :: Houses aren't selling as quickly in my neighborhood, it's probably rising rates
Current Rates
| Term | APR |
| --- | --- |
| 30-year fixed | 5.955% |
| 20-year fixed | 5.48% |
| 15-year fixed | 5.508% |
THOUGHT :: You have to wonder why folks can't service a fixed rate mortgage and are already behind enough, facing eviction
Liz Ann Sonders :: About 15%, or 8.4 million Americans, are behind on rent per early June @uscensusbureau survey … ~3.5 million households say they are very or somewhat likely to leave their house in next 2 months because of eviction
THOUGHT :: I don't think you can read too much into this data. Housing completions are way behind which means fewer finalized sales
(Liz Ann Sonders :: Except for Midwest, most regions saw peak in pending home sales in August 2020; since then, sales are down by 20% in south, 18% in Midwest, 23% in northeast, and 29% in west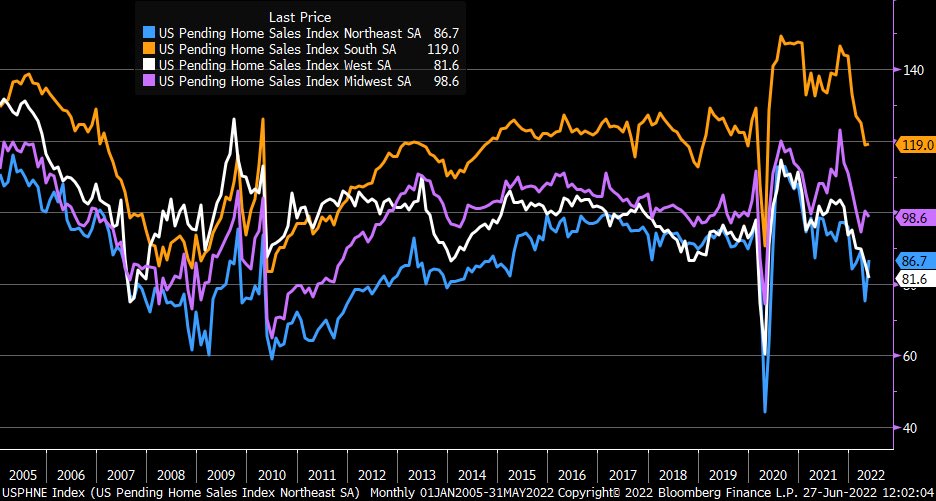 Takeaway :: Glad I am not trying to buy a house right now